Description
Macc New 250DV is the latest compact steel cutting circular saw from Italy. It has single mitre to 45 degrees and a flood coolant system. Also available is the optional pedestal to floor mount the machine. The DV is Double Vice allowing a strong vice casting to grip the work before and after the blade. This reduces vibrations and should provide a better cut.
Macc New 250DV Circular Saws UK.
The Macc range has been produced in Italy for many years , and sold in the UK for over 30 years now.
Full technical support and after sales backup.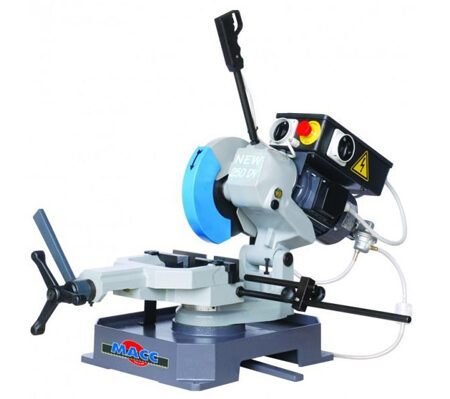 Macc New 250DV Industrial circular saw from Italy
Movable head 45° right and left
Reduction unit oil bath
Membrane pump for coolant
Coolant filter
Vice complete with anti-burr device
Bar stop
Service tools
Instruction manual and spare parts
24 Volt low voltage installation with hold-to-run head control
Overall dimensions: 800 mm x 830 mm x 755 mm.
Macc New 250DV Steel cutting circular saw uk supplied by RK International.
Other circular saw machines: