Description
MACC Special 700 DI Twin Column double mitre bandsaw for cutting of heavy steel beams and sections. Inclined saw angle allows for efficiant cutting of flat sections in steel beams, plate of box section.
Macc Special 700DI Semi Automatic Mitre Bandsaws UK
Highly efficient semi automatic bandsaw with excellent cutting accuracy. This machine is perfect to mitre cut heavy box and sections. Its sturdy twin column structure and swing frame mitre function allow for accurate mitre cuts on both left and right.
Double mitre machine so the work piece stays fixed and the frame is turned to the desired angle. This angle is then displayed on a digital read out.
Specification
Motor power 4 kW
Control unit motor 1,5 kW
Electric pump 0,12 kW
Cutting thickness 1,5mm
Cutting angle max 45° right - 60° left
Coolant tank capacity 50 l
Appropriately dimension flywheels
Blade cleaning device with brush
Digital Display of the Mitre angle with hydraulic lock.
Chip Extractor
Micro lubrication system (requires compressed air supply!)
MACC Special 700DI.  Twin Column double mitre bandsaw for cutting of heavy steel beams and sections. Heavy duty Macc Mitre Bandsaws UK. Other semi automatic and fully automatic bandsaws are available, so please do send an enquiry or give us a call.  01322 447611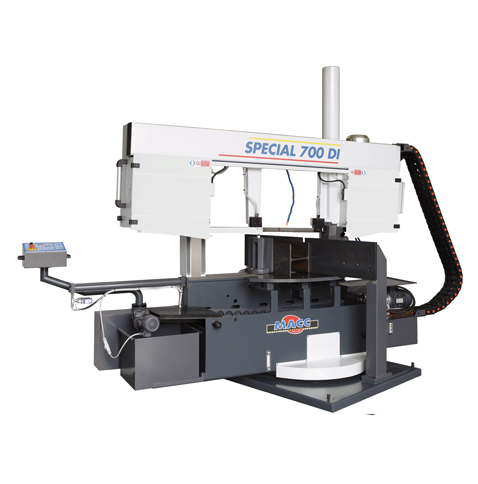 larger structural steel saw
Other Macc Saws UK :