Search results
Dartford-based RK International Machine Tools has announced an extension of the portfolio of grinders available as part of its agency agreement with Italy-based Delta. The two machines added to the range offered by RK International are the Delta Rotax 7 Compact plus and Delta Rotax 9 Compact Plus high precision, fully automatic, rotary table, horizontal spindle NC grinding machines. These machines target applications from one-off to volume production across a range of industry sectors such as toolmaking, automotive, bearing, and mouldmaking.
Both machines are travelling column type with a horizontal wheel axis. The travelling column, in line with all of the other machine axes, moves on pre-loaded hydrostatic bearings, a feature that ensures maximum accuracy. This design also eliminates the overhang error that is commonly found in quill-type wheelhead assemblies. This accuracy is further enhanced by use of oversized , reinforced castings that achieve maximum machine stiffness, the design of which was developed using Finite Element Analysis in conjunction with academia. The result is a machine that is not only accurate, achieving excellent surface finishes, but one capable of high levels of stock removal, making it highly productive.
Machine build quality of the Rotax series also extends to the rotary table and spindle, both of which feature high precision, hand-picked, double row, angular contact, preloaded ball bearings, which are greased for life (greased for life). The Delta designed and developed spindle also benefits from an oversized Mackensen type hydrodynamic bearing on the wheel side. The hydrodynamic principle of this bearing surface ensures no metal-to-metal contact, extremely long life, very smooth rotation and very quiet operation. Spindle drive is via a 7.5 kW/1400 revs/min motor capable of carrying grinding wheels measuring 400 mm diameter by 50 mm wide with a 127 mm bore diameter, although an option to have a 100 mm wide wheel is available.
Continuing the drive for optimum accuracy the axis drives on the x, y and z axes is provided by brushless servomotors, ensuring that feedback to the control is extremely accurate via high precision (ISO 3) ground, preloaded ball screws. The optional w axis for the wheel dresser is controlled by a stepper motor.
Machine control and user interface is through the Compact Plus NC designed by Delta, which, using Delta's experience in grinding technology has been developed to simplify the programming of the most complex of grinding operations. All functions are accessed from the colour LCD screen with customised membrane key pad, with every key associated to a machine function. The result is an easy to use control that eliminates operator errors as all the required information is displayed clearly and unambiguous format on the screen. The control has a number of automatic cycles built in to it, including roughing; finishing; and spark-out. Automatic wheel dressing is optimised at a specific frequency depending on the grinding operation and at the end of every cycle the axes retract to pre-selectable positions to make component access easy.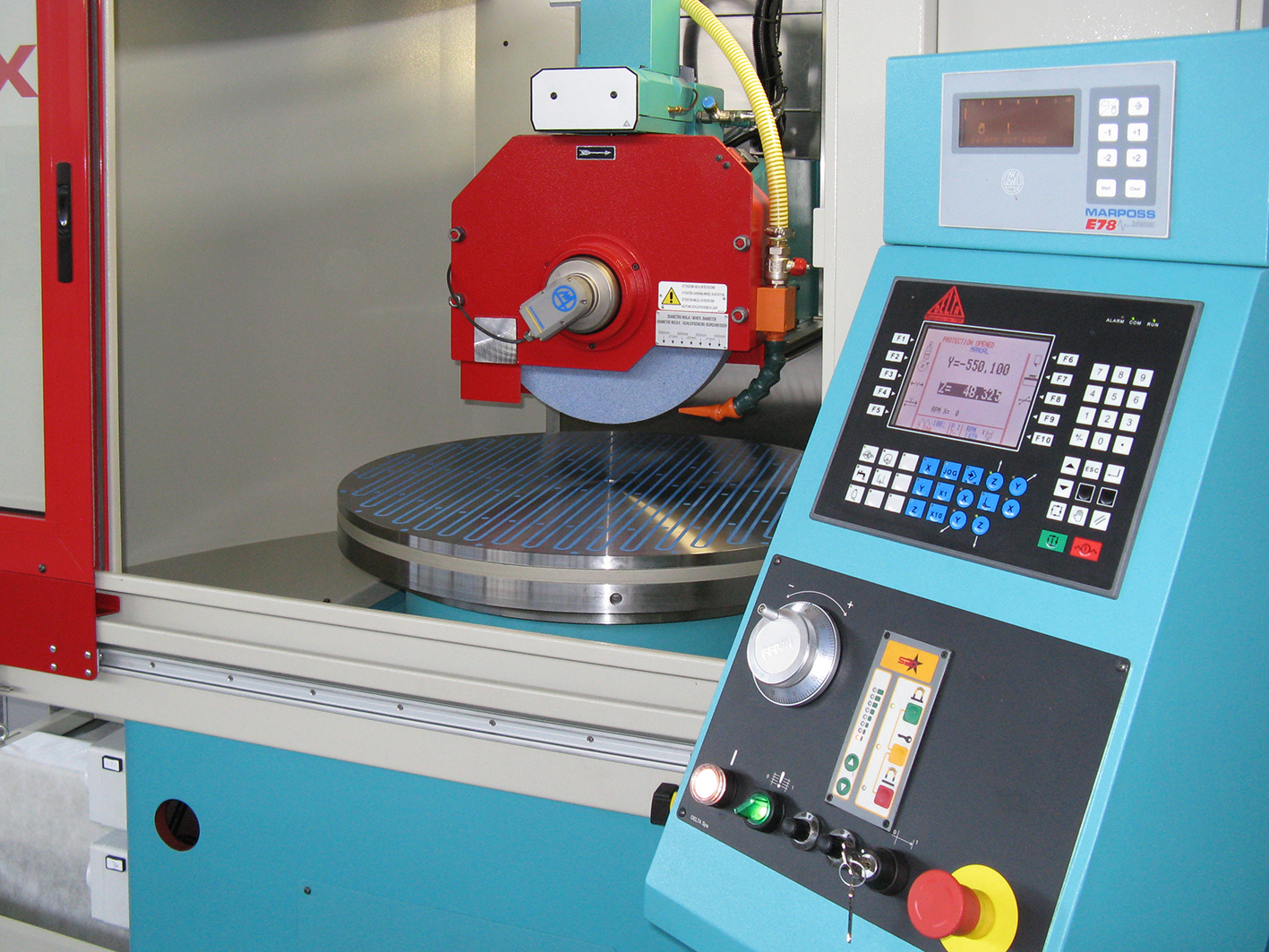 The Delta Rotax Compact Plus range of travelling column rotary grinders provide users with versatility, productivity and ease of use in a cost effective package.
In addition to accuracy the Delta Rotax 7 and 9 Compact Plus machines also have impressive grinding capacity with maximum grinding diameters ort 700 mm and 900 mm, along with maximum grind heights with a new wheel of 330 mm and 530 mm, with table loads of 500 kg and 700 kg respectively. Vertical axis speed of both machines is 1.5m/min, with a figure of 0.3 m/min for transverse axes.
The horizontal spindle Delta Rotax horizontal spindle machines complement the Delta Elle vertical spindle, rotary table machines, with both series providing different advantages dependant on the application. The horizontal spindle Delta Rotax machines present the periphery of the grinding wheel to the workpiece. The advantage of this is that much higher precision work can be processed, with superior repeatability, with improved surface finish. Components featuring flat, taper, raised/shoulder work and profiles can also be ground. With the Delta Elle vertical spindle approach a much greater surface area of the wheel is in contact with the workpiece. This allows higher spindle power to be applied with a resultant increase in metal removal rates, far in excess of conventional grinders.
"The versatility of the Delta Rotax Compact Plus machines will be of great interest to many engineering manufacturing businesses from small sub-contractors through to OEMS. The build quality and ease of use of the control system will appeal to those who are looking for a machine capable of small or large volume production, where consistent accuracy is key. When added to the Delta Elle machines the result is a diverse range of grinding solutions provided by RK International that is evidence of our commitment to have the right machine for the right application available for our customers," says Dick Aldrich, Sales Director, RK International Machine Tools.
Click here to view more details and specification on the DELTA ROTAX series. Alternatively, email RK International Machine Tools Limited for more information sales@rk-int.com