Search results
After a break of almost 30 years RK International Machine Tools is making a return to MACH with a main stand in Hall 5 and by providing support in the Education and training zone and on the stand of its principal, The 600 Group.
"We have been absent from MACH for too long, so it is good to be making a return in such a strong fashion, with RK International Machine Tools represented across Halls 4 and 5. We will be in a position to discuss the full portfolio of machine tools available from RK International Machine Tools, while focussing our main stand on our increasing grinding range, which is helping to drive sales growth for us," says Dick Aldrich, Sales Director.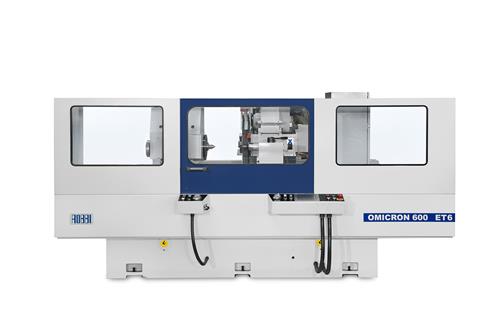 On stand 5960, RK International Machine Tools will have two grinding machines on display; a Robbi Omicron 600R universal grinder fitted with the latest T6 control system, and a Delta Rotax 7 Rotary table horizontal spindle grinding machine. The Robbi T6 control system T6 control delivers as close to full CNC control as it is possible to achieve from a PLC control system, with the added benefits of lower cost than full CNC and simplicity of use for customers producing low to medium volume components. One of the key features of the T6 control is the ability to create up to eight diameter pre-sets, including setting grinding tolerances. These diameters can then be ground in an automatic cycle. Wheel dressing is also simplified through use of the control's teach facility. Once set the dressing can be done in cycle with automatic compensation for the changes that occur to the wheel during the process. Other benefits of the T6 control are its control of the easy integration of wheel balancing, anti-crash, probing and side flagging systems.
"The T6 control brings major gains in terms of functionality and simplicity of operation, and reducing non-grinding time and improving efficiency, making it ideal for companies that have been reluctant to move from manual grinding to CNC," says Dick Aldrich.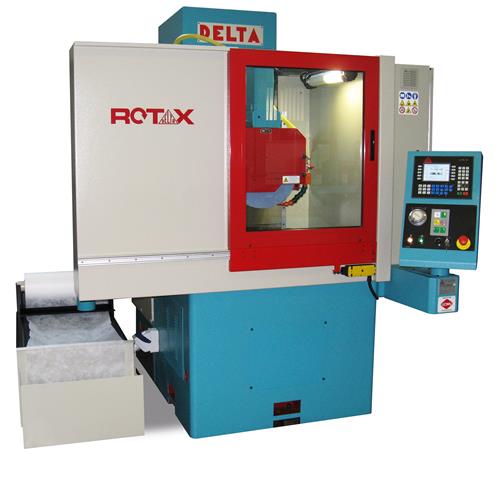 The Delta range of precision grinding machines are the latest addition to RK International Machine Tools' grinding portfolio and includes rotary, fixed table and travelling column precision grinding machines. The Rotax 7 machine on display is a Rotary table horizontal spindle grinding machine with travelling column and hydrostatic way. The CNC controlled Delta Rotax 7 is capable of grinding parts measuring up to 700 mm diameter by 330 mm high, while maintaining the highest levels of accuracy, with  the use of hydrostatic ways helping this situation by eliminating any possibility of 'stick slip'.  The machine was designed using finite element analysis and the use of 'oversize' structures in its construction provide a stable and machine base with maximum rigidity, which impacts in a positive way on the surface quality being produced.
On RK International MachineTools' stand in the Education and Training Zone it will be exhibiting its latest Europa Milltech 2000 VS turret mill equipped with a Heidenhain control system. The education and training sector is a growing side of RK International Machine Tools' business and one that it supports with a wide range of machines from manual lathes through to CNC machining centres. The development of the Europa Milltech range with the addition one of the world's leading milling controls is seen as a step from training or prototype machining through to full production. The use of the Heidenhain TNC320 CNC control allows the Europa Milltech machines to be used for prototype and low-volume machining of components and developing CNC skills, with the added advantage of these programs and skills then being easily transferrable production-based machines equipped with the popular Heidenhain control.
Finally, RK International will be represented on the stand of The 600 Group, for which it has been the southern sales agent for more than 40 years, selling the full range of manual and CNC machines from the Heckmondwike-based machine tool manufacturer.