Search results
RK International Machine Tools, through its partnership with Robbi Group S.r.l., has a long history of supplying horizontal honing systems in the UK. This range of horizontal honing solutions has now been enhanced with the introduction of the first Robbi Vertical honing system to ustilise ballscrews and linear guides for increased performance and accuracy.
The new SET 300 YUM machine has been developed for higher volume manufacture and the first installation has just been carried out at the manufacturing plant of one of Japan's leading industrial companies.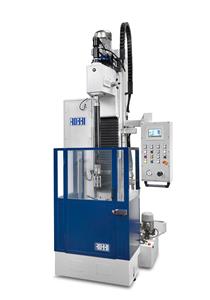 Click above to view the range of ROBBI Grinding and Honing machines
available from RK International Machine Tools Limited.
The SET 300 YUM machine is available in three versions, with capacity to hone tubes of 1200 mm, 1400 mm or 1800 mm in length with diameters ranging from 22 mm to 300 mm, when the correct honing heads are used. Robbi can supply a wide range of heads and extensions in order to accommodate a much wider range of components and applications.
Unlike its horizontal counterparts the SET 300 YUM does not require a second spindle (for the part rotation, but it does have other features in common with its LYOR horizontal range, namely the software and control system, making it a simple to operate machine, which will be familiar to existing users of Robbi honing technology.
"The development of this high performance vertical honing system, with the advantage of ballscrews and linear guideways will be of interest to many manufacturers in the UK and will provide them with a cost-effective solution to honing long, large diameter tubes. While we will be discussing potential applications with customers immediately, we will also take advantage of highlighting this new technology when we make a return to exhibiting at the MACH show in 2014," says Dick Aldrich, Sales Director, RK International Machine Tools Ltd.
Robbi Group S.r.l. has over 60 years' experience in the manufacture of precision cylindrical, universal, internal grinding machines and honing machines, from its base near Verona, Italy. The SET 300 YUM is the latest development in that range of honing machines and follows on the heels of the LYOR series of Horizontal Tube Honing Machines, which have proved to be highly successful in the oil, gas and petro-chemical, hydraulics, aerospace, nuclear and marine industries, along with any application where a straight, round and deep component is required with an increased accuracy in a wide ranging of materials including exotics.
"The Robbi range provides customers with an 'off the shelf' solution to their honing requirements, while at the same time providing the option for customisation where the application demands it. This flexibility in the design of the Robbi machines is a major advantage, giving customers the reassurance that we can provide the optimum solution for their particular needs at cost-effective prices."
The LYOR horizontal machines have honing head strokes up to 8,000mm, and can accommodate component lengths of up to 7,000mm, with maximum spindle bore diameters to be honed from 20 to 400mm. Robbi machines are renowned for their rigidity and power and, in the case of the LYOR machines a powerful hydraulic cylinder controls the honing head movement, whilst a 7.5Kw gearbox driven transmission controls the honing spindle and provides high torque cutting forces for increased stock removal.
"Having the option to supply a horizontal and vertical honing machines offers many benefits when talking to potential customers as we can now provide for every possible honing situation. With the combination of the experience in-house at RK International and that we can call on from Robbi if required, customers are reassured of getting the optimum solution and the back up and service that their investment deserves." concludes Mr Aldrich.