Search results
The Europa Milltech range of turret mills has been a staple element of Kent-based RK International's machine tool portfolio for many years. Popular with customers from industry and educational establishments, the range has now been enhanced with the addition of manual and full CNC control of three axes. At the heart of these changes is the Heidenhain TNC320 control system, the first new machine of its type to be fitted with such a high level control system.
RK International has committed considerable engineering resources to the development of the Europa Milltech range and the addition of one of the world's leading milling controls is more than just a simple retrofit, as the machines have been re-engineered with the latest Heidenhain CNC control in mind. The addition of the Heidenhain TNC320 control releases huge potential for the Europa Milltech machines to be used for prototype and low-volume machining of components, that can then be easily transferred to Heidenhain controlled machining centres for higher volume runs.
"We have worked closely with Heidenhain in the UK over a period of time to ensure that the TNC320 is the ideal solution to take the Europa Milltech machines to the next level of performance," says Simon Rood, Sales Manager, RK International Machine Tools Ltd. "The controls suitability for series or single part production in a variety of manufacturing environments, along with the simplicity of the Heidenhain conversational programming system, will bring major benefits to our customers, who are already placing orders for the machines."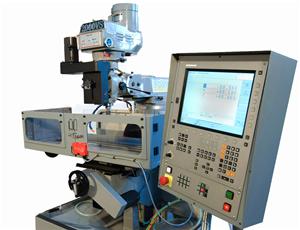 The TNC320 control is extremely powerful and can be programmed using Heidenhain's conversational programming,FK free contour programming or via external external programming software. These programs can be transferred to other machines using the standard USB, fast Ethernet, and RS RS232 data transfer interfaces. Programs can be imported from any Heidenhain control above the TNC155 system and programs can then be exported to any Heidenhain equipped machining centre.
As part of the upgrade package each machine is also equipped with modern, High Torque servo motors and drives, high accuracy C5 ballscrews and, the entire electric/electronic package is sourced and engineered in the UK. All of which will be UK-supported by RK International Machine Tools Ltd and Heidenhain (GB). Under CNC control the machine axes are fully automated giving total control for the machining of complex details and forms. The operator is able to edit and monitor the performance of the machine on the control's 15 inch TFT screen.
Of course, users still have the option to use the Europa Milltech in full manual mode and for additional control in this method of operations RK International has fitted the z-axis with a Heidenhain linear scale for increased accuracy. This combination of full manual or CNC control provides an ideal package for a wide target market, which includes companies producing one-offs and small batch production, toolmakers, R&D and prototype manufacturing, maintenance and educational and training facilities.
The range of Europa Milltech machines includes two spindle options, with the 2000VS machine having a R8 taper, while the larger 5000VS having an ISO 40 taper. Basic specifications of the machines are (respectively) a table size 1244 x 230mm (1370 x 254mm), X axis travel of 755mm (820mm), Y axis travel of 300mm (430mm), vertical traverse of 405mm (430mm) and a Z axis quill travel of 110mm (125mm). Spindle speed range is from 75 to 3800 revs/min.
Full product details can be viewed by clicking here for details on the Europa Milltech 2000VS with Heidenhain TNC320 control, or by clicking here to view details on the Europa Milltech 5000VS with Heidenhain TNC320 control. You can always view the online video of this exciting new machine and control combination..... watch details here!
Workpiece and tool measurement options with the range of Heidenhain probes being fully integrated into the control, along with electronic handwheels and the Heidenhain TNC320 Programming Station for offline programming and testing are also available for increased productivity.