Search results
Grinding machinery range displayed at Mach
RK International Machine Tools will be making full use of its stand (5790) at MACH 2016 to promote some of the latest grinding technology available from its principals, Taiwan-based  Perfect, and Italy-based Robbi and Delta.
The Perfect X36 High Precision surface grinder will make its UK debut at MACH 2016 having been launched in 2015. The machine is now the largest in the X-series range from Perfect and features a 300 by 600 mm table size with maximum distance between the table and spindle centreline of 600 mm. The spindle is a 7.5 hp (10 hp option) capable of grinding wheel speeds up to 1750 revs/min, with maximum wheel size being 355 by 50 by 127 mm. It makes use of linear slideways for the cross and vertical slideways, although a box slideway is optional on the vertical axis, for the x-axis a box slideway is standard. Like its stablemate the X25, the Perfect X36 benefits from multiple grinding cycle routines including surface, criss-cross, plunge, and pitch grinding routines. And, in addition to the PLC control system the machine can be manually controlled using a joystick when required, but these movements are overseen by foolproof PLC controlled safeguards. All of which help to reduce the skill levels required to produce high quality components.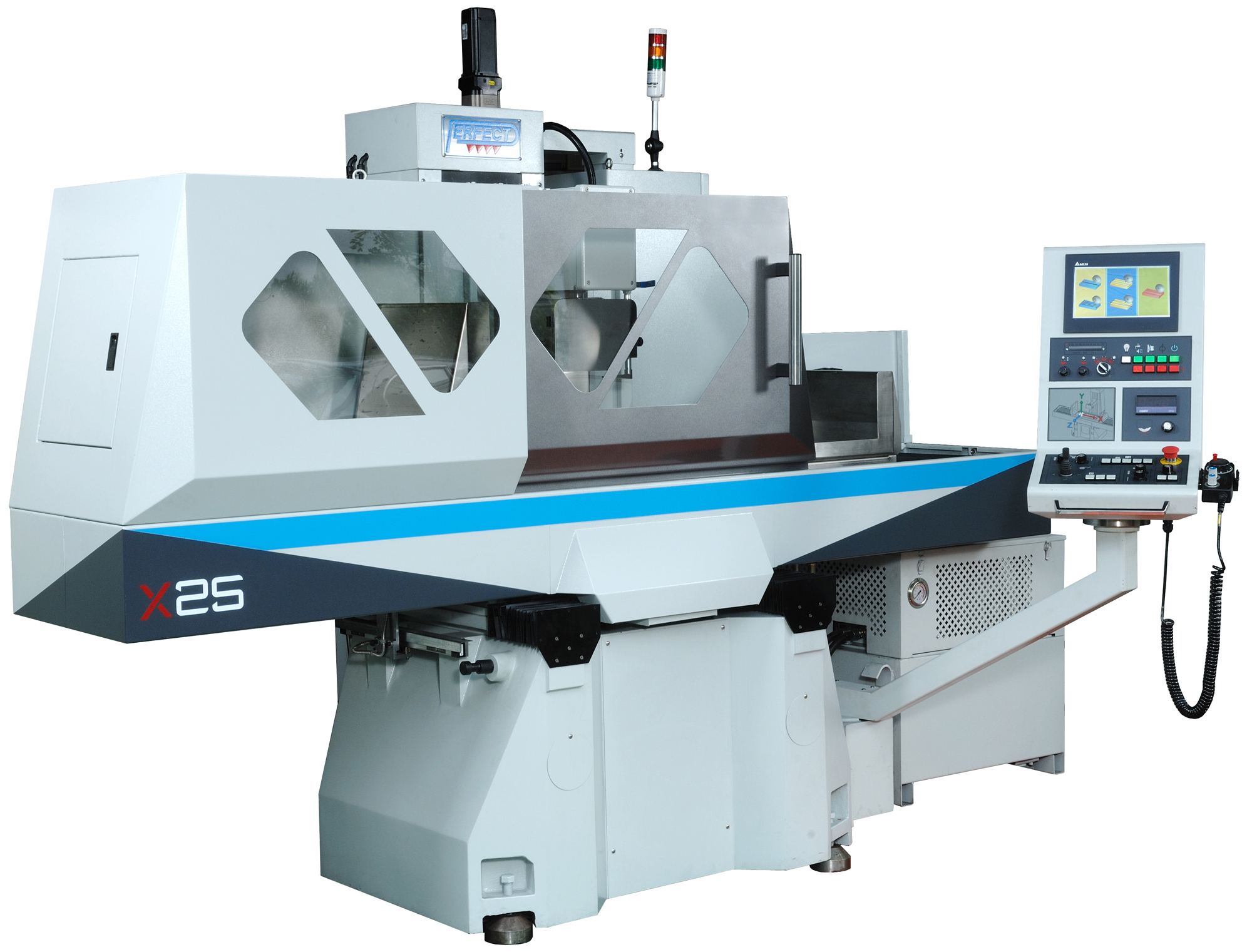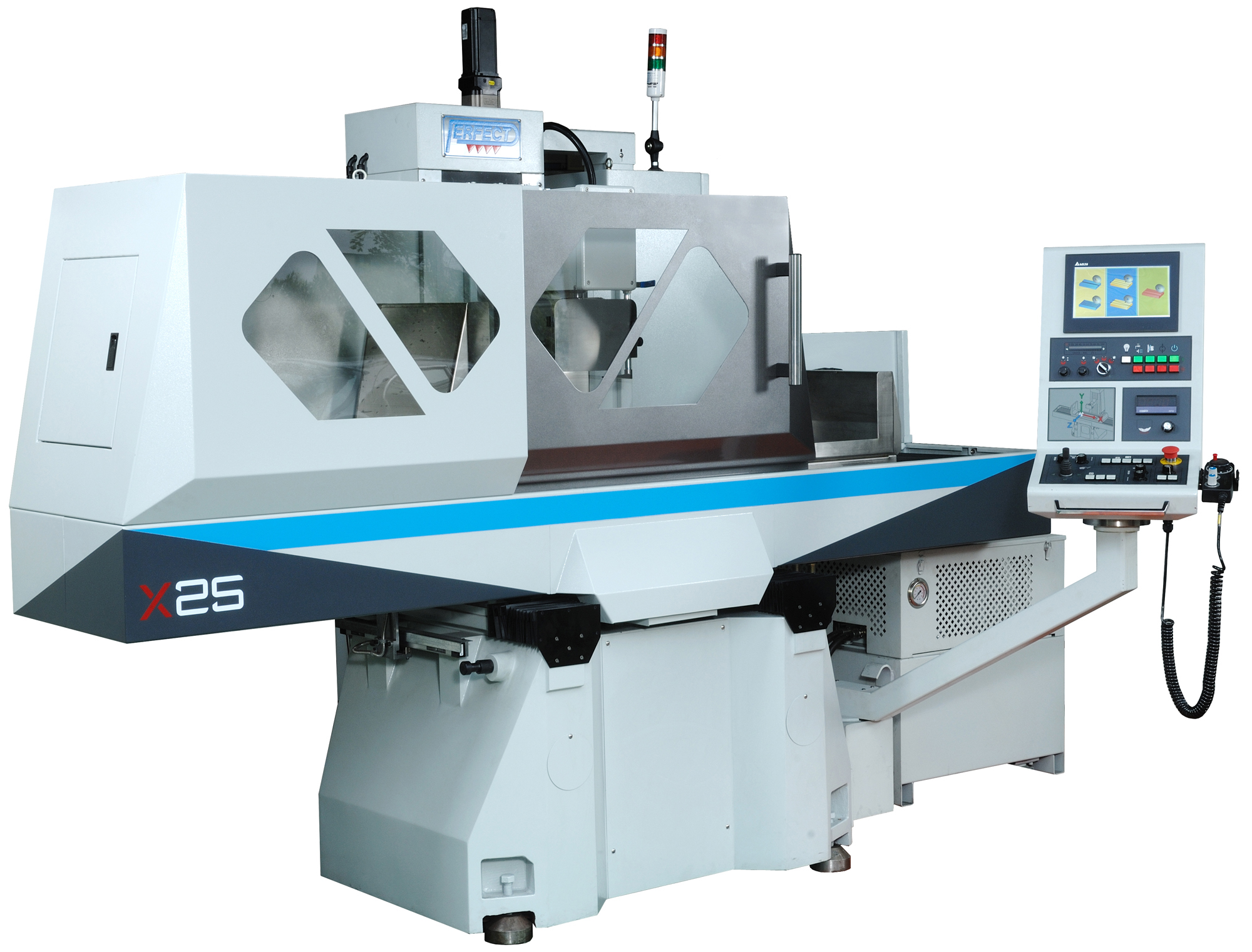 The ease of operation is matched by the build quality and specification of the X36. As standard the machine is equipped with a 7.5 hp CP4 high-precision spindle, with pre-stressed adjustment, capable of accepting wheels up to 355 mm diameter. Automatic table top wheel dressing and compensation is also fitted as standard, with customers having the option to specify an overhead dressing system if they prefer. Minimum feeds in the vertical and cross axes is 0.001 mm and the axes are controlled by C3 ballscrews driven by AC motors and worm gears.
On display from Robbi is the Omicron E T6-600 universal grinder with a 630 mm distance between centres. This semi-automatic, PLC-based machine provides users with outstanding versatility even allowing economical grinding of batches as small as one-off. Key features of the E T6-600 are its ability to grind components weighing up to 250 kg (300 kg optional), a maximum table swivel of +9/-5 degrees, workhead rotation of between 0 and 300 revs/min. For larger workpieces Robbi has three larger variants with 1030, 1530 and 2030 mm between centre distances. The wheelhead contains a hydrodynamic spindle, rotating on anti-friction metal bushes that help to enhance surface finish quality, and its position is controlled to within 0.001mm by use of the incremental motor's encoder in a closed loop. For additional accuracy an incremental linear encoder can be specified.  The machine uses the Siemens TP 700 touch screen control panel that facilitates easy programming of grinding cycles, including features such as programming up to eight diameters in one cycle. The operator interface is also intuitive, showing the position of the wheelhead and table on-screen. Also, along with an internal (electronic) spindle, the machine at MACH will be equipped with Renishaw and Marposs gauging.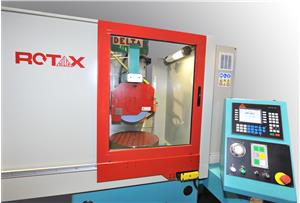 "We have had great success with the Robbi T6 PLC Control" comments Dick Aldrich, Sales Director. "More and more installations feature this easy to use system, which allows up to eight diameters to ground in a single grinding cycle, and the control does really offer near CNC capability at a considerable price advantage." The Robbi E Series, sits second in the range of the Omicron range with machines up to 6000mm between centres and capacities of over 4000 kg and centre heights of up to 500mm.
The final machine on the RK International Machine Tool stand is the Delta Rotax 7, a high precision, fully automatic, rotary table, travelling column, horizontal spindle NC grinding machine. These machines are suitable for one-off through to volume production environments across a range of industry sectors such as toolmaking, automotive, bearing, and mouldmaking. Accuracy of the machine is enhanced by use of pre-loaded hydrostatic bearings on all axes. The horizontal wheelhead and travelling column also eliminates the overhang error that is commonly found in quill-type wheelhead assemblies. In order to provide a rigid grinding platform the machine is constructed using oversized, reinforced castings to achieve maximum machine stiffness. The result is a machine that is not only accurate, achieving excellent surface finishes, but one capable of high levels of stock removal, making it highly productive.
The Delta designed and developed spindle also benefits from an oversized Mackensen type hydrodynamic bearing on the wheel side. The hydrodynamic principle of this bearing surface ensures no metal-to-metal contact, extremely long life, very smooth rotation and very quiet operation. Spindle drive is via a 7.5 kW/1400 revs/min motor capable of carrying grinding wheels measuring 400 mm diameter by 50 mm wide with a 127 mm bore diameter, although an option to have a 100 mm wide wheel is available.  Maximum grinding diameter is 700 mm with components up to 500 kg able to be accommodated on the machine's rotary table. Continuing the drive for optimum accuracy the axis drives on the x, y and z axes is provided by brushless servomotors, ensuring that feedback to the control is extremely accurate via high precision (ISO 3) ground, preloaded ball screws. The optional w axis for the wheel dresser is controlled by a stepper motor.
Machine control and user interface is through Delta's Compact Plus NC control, which, using Delta's experience in grinding technology has been developed to simplify the programming of the most complex of grinding operations. All functions are accessed from the colour LCD screen with customised membrane key pad, with every key associated to a machine function. The result is an easy to use control that eliminates operator errors as all the required information is displayed clearly and unambiguous format on the screen. The control has a number of automatic cycles built in to it, including roughing; finishing; and spark-out. Automatic wheel dressing is optimised at a specific frequency depending on the grinding operation and at the end of every cycle the axes retract to pre-selectable positions to make component access easy.
MACH 2016 at the NEC runs from the 11th to 15th April 2016 in Birmingham