Search results
According to John Schwarz, who is the third generation of managing director for the family owned machine tool supplier RK International - the "R" clearly stands for relationships. "It's the common theme across the company and applies to customers, suppliers and particularly the 17 staff employed at our headquarters and showroom in Erith," he said.
Indeed, to mark the occasion of the dedicating of over 25 years of continuous service, three directors Jim Larkman, financial director (36 years); John Schwarz, managing director (25 years); Dick Aldrich (25 years) and engineering manager Alan Kendall (30 years) were each presented with a special watch of their choice.
Said Mr Schwarz: "Such extended lengths of devoted service has to be exceptional and is certainly appreciated by customers due to the knowledge we have built up. When the average service in the company is added up, it's over 14 years per employee and only two people have been with the firm for less than four years."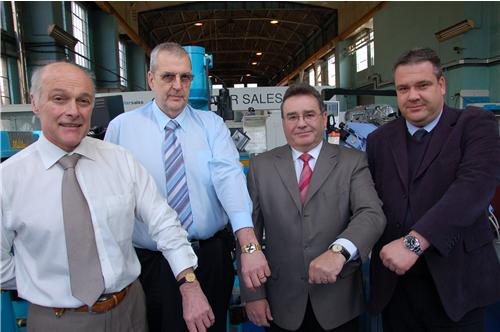 Although having the flexibility of being completely independent and always having an eye for new products, most of RK's suppliers also have long track records of over 20 years association and many of the 250 customers served through 2009 have been regular purchasers or users of the services and support provided.
In 2011, RK will have been in business for 60 years. The firm was originally set up in 1951 by Ray Schwarz as an engineering company which developed into the production of small surface and band-grinding machines as well as centrifuges used in the reclamation of neat cutting oil. Ray's son Mike took over the business in the early 70s and today, John a third generation of the Schwarz family, has captained the company as MD for some 10 years. During the last decade, RK has created a niche market in providing turnkey packages, particularly in the subcontract, education and training sectors due to its ability to independently source all the various elements.
Said sales director Dick Aldrich: "We also supply OEMs in the UK and in fact it was this sector that led us down the road to provide complete packages not only adding value but taking overall responsibility from the customer."
Amongst RK's core products are lathes, machining centres, sheet metal equipment and grinding machines from companies such as Colchester Harrison, Hardinge Bridgeport, Robbi and Jainner. In addition, RK directly imports to the UK and Ireland its own highly successful range of Europa knee and column, ram and bed mills and has a rapidly changing stock of guaranteed used machines and equipment.
Said Mr Aldrich: "The provision of a complete service means you have to build relationships with a two-way understanding when help is required." This method of working enables RK to take on projects involving the sourcing of controls and DROs, software, accessories, tools and even peripheral items such as benches, cabinets, spray booths, cleaning, heat treatment and tool stores."
He then added: "We also provide a tailored service to customers which can entail project management, the provision of risk assessments, advice on health and safety, finance, leasing and rental of equipment. We provide our own transport and handling for installation, engineers for commissioning and training and through our extensive network of contacts, can source pre-owned and dispose of used equipment."