Search results
Joining RK International on 12th & 13th October 2011 will be Heidenhain, Nikken, Sandvik, Renishaw, TechCadCam & Hi-Tech showing the latest innovations in the manufacturing industry.
Visitors will be able to view the most modern apprentice training school in the south of England at the newly launched Aerospace and Automotive Academy at Farnborough College. You can read more on Farnborough College, by clicking here.
Following a recent investment of £250,000, Farnborough College is attracting apprentices from British Airways Engineering and many leading and recogniseable engineering establishments.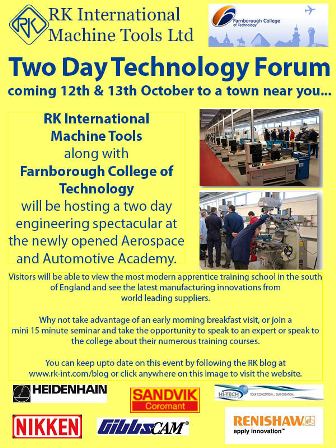 Over the duration of the event, visitors will be able to catch-up on the latest manufacturing solutions with a number of mini-seminars lasting no more than 15minutes, followed by an up close and meet the experts who will happily share there knowledge with visiting engineers.
FCoT Technology Seminars
 
12th Oct 2011
 
13th Oct 2011
09:00
Heidenhain
10:30
Nikken
12:00
FCoT
FCoT
13:30
Renishaw
15:00
Sandvik *
* =
Confirmed time
You can be kept informed on the event by clicking here to fill in our contact form. We will keep you up-to date of the events keynote speakers and a progamme of the mini-seminars, along with a breakfast morning and lunch session for those 'flying visits.' Details can also be viewed along with registration details on the Farnborough College website http://www.farn-ct.ac.uk/
We look forward to hearing of your interest and seeing you in October. If you would more information in the meantime, please feel free to call Simon Rood at RK International Machine Tools Ltd on 01322 447611.