Search results
Melchiorre fine grinding machines UK
Following the recent agreement between based RK International Machine Tools and Milan, Italy, grinding machine specialist Melchiorre, the Kent-based machine tool specialist is now able to offer its customers a fine grinding solution.
RK International Machine Tools will be initially focusing its attention on the Melchiorre ELC series (Electronic-Logical Control), which are double-sided machines, best suited for components demanding high levels of parallelism, thickness and flatness. Typically, these machines can grind to tolerances of +/- 1 micron thickness, flatness 0.5 micron, parallelism 1 micron with surface finishes as fine as Ra < 0,10 micron.
"The arrival of the Melchiorre brand to our range is a highly positive step and will add significantly to our already extensive portfolio, opening up opportunities for us within different areas of manufacturing, such as electro optics, technical ceramics, data storage and semiconductor industries," says RK International Machine Tools Sales Director, Dick Aldrich.
The Melchiorre ELC series starts with the ELC400 that has a maximum component capacity of 119 mm through to the ELC2000 with capacity to grind parts up to 708 mm diameter. The machines can also be supplied with fully automated load/unload capability to deliver impressive productivity gains. The machines themselves benefit from Melchiorre's 60 year history of manufacturing precision grinders. The strong and rigid C-frame construction provides greater stability allowing the latest super abrasive grinding wheels to be used at their optimum speeds and feeds.
This combined with Melchiorre's Electronic-Logical Control system, which uses a closed loop process to precisely control the grinding pressure, which in turn improves the quality of the ground surface and repeatability. These factors are measured using the in-process gauging system that checks parts during the grinding cycle and stops the machine when the correct size and finish has been achieved.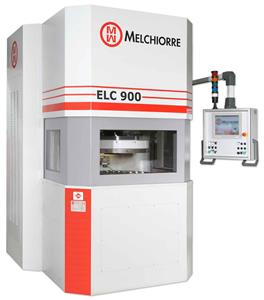 While ideal for hard metal and technical ceramic grinding applications the machines are also suitable for a wide range of applications found across a varied selection of sectors, including automotive (air bag initiators, pumps, transmission parts); aerospace (engine components, hydraulic systems); bearings; mould and die, and the pump and compressor sector. "The addition of Melchiorre and the provision of super finishing as a process for our customers is part of our strategy of looking at every opportunity that comes along to strengthen the portfolio of grinding machines available from RK International Machine Tools. With 60 years of manufacturing precision grinding machines behind them Melchiorre has the experience to provide highly productive solutions. It is also a very progressive company and has recently invested in and relocated to a new factory close to Milan. The knowledge and confidence possessed by Melchiorre gives us the reassurance that we can have a long and fruitful partnership with them," says Dick Aldrich.