Search results
Established in 1920, what is now Muffett Gears went through various stages before identifying the manufacture of precision gears as an area of manufacturing that it could become a specialist in. Ever since 1950 gear design and production has been the core competency of the Tunbridge Wells-based company. Now in its third generation as a family-owned business its focus is firmly on maintaining its reputation and continuing to invest in the latest machine tool technology to deliver the quality and service that this reputation has been built on.
ISO 9001 and aerospace BS EN 9100 compliant and accredited Muffett Gears' specialism is in the design and manufacture of gears and gearboxes, with a capability to produce prototype and first batch production for customers, as well as production of a range of standard products, including spur, helical, bevel, racks, worm and wormwheels, internal gears and moulded gears, with batch quantities ranging from 1 off to 1000 off. With a customer base that covers Aerospace, medical, mining, defence and construction they are called upon to manufacture gears of all shapes and sizes, from minute gears that are used in artificial hands, through to large shafts for industrial pump systems. Other projects have included manufacturing components for medical scanners, camera mounts to supplying gearboxes that end up in the latest commercial aircraft designs.
To achieve the five micron accuracies that some of their work calls for Muffett Gears has an extensive plant list capable of cutting any form of gear. It also has a capacity list of more conventional machine tools, one of the more recent being a Perfect PFG-D4080AH surface grinder from RK International Machine Tools. The Perfect grinder is NC controlled and was purchased to replace an ageing manual grinder, with one specific component in mind, spur gear filler plates used in an Oncology Radiotherapy machine. The old machine was becoming inconsistent and required constant manual intervention to maintain size, which was impacting on productivity.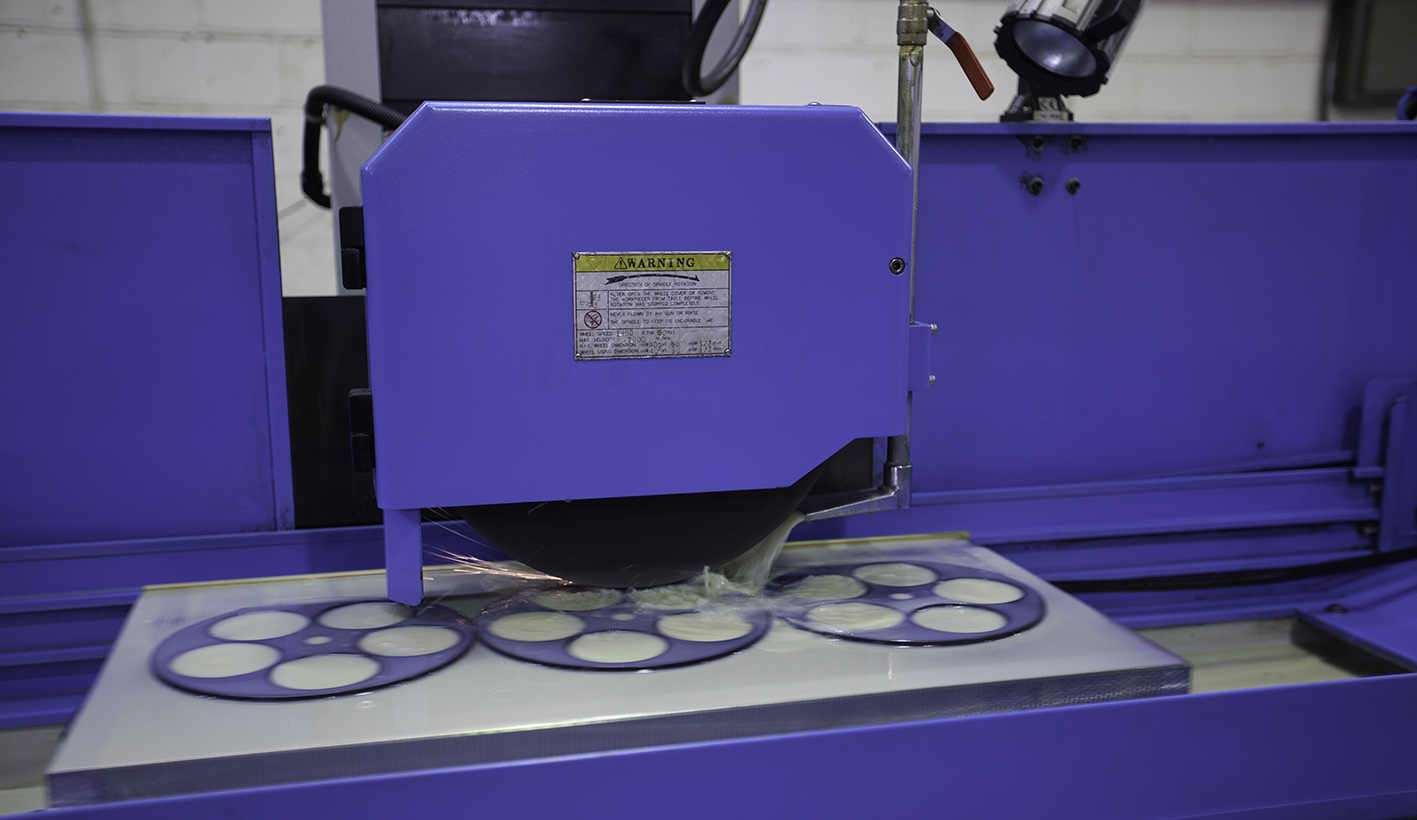 Having researched the market the Perfect PFG-D4080AH stood out from the crowd due to its simplicity of operation and cost. "Many of the surface grinders that we looked at were over-specified for what we wanted, which in turn meant that they were more expensive. Our requirement is pretty straightforward, we needed a grinder that would be consistent and accurate, without all the bells and whistles, but would give us some level of automation, while at the same time allowing manual operation for when we needed to use it as a toolroom grinder," says Alan Kennard, Works Engineer, Muffett Gears'.
Another advantage of the Perfect PFG-D4080AH for Muffett Gears is the table size, which at 400mm by 800mm allows three components to be ground in a single set-up as opposed to two on the old machine. This has an immediate impact on lead times and productivity giving a 40/50 per cent improvement with around a 90 per cent reduction in input from the operator. Shift Supervisor, Rob Hudson adds: "We had no previous experience of NC surface grinding, but setting the Perfect machine couldn't be simpler. We simply touch down on the work dial in the amount of material to be removed and set the number of passes. We tend to work on 50 micron roughing passes with a 25 micron finishing pass. After that it is case of pushing the button and waiting for the cycle to finish. The machine grinds to size every time and we have never had a scrap part from it in the time it has been installed. Compared to the old machine we have total control of sizing, if we want to remove another five micron, we simply dial it in and the machine will remove exactly five micron."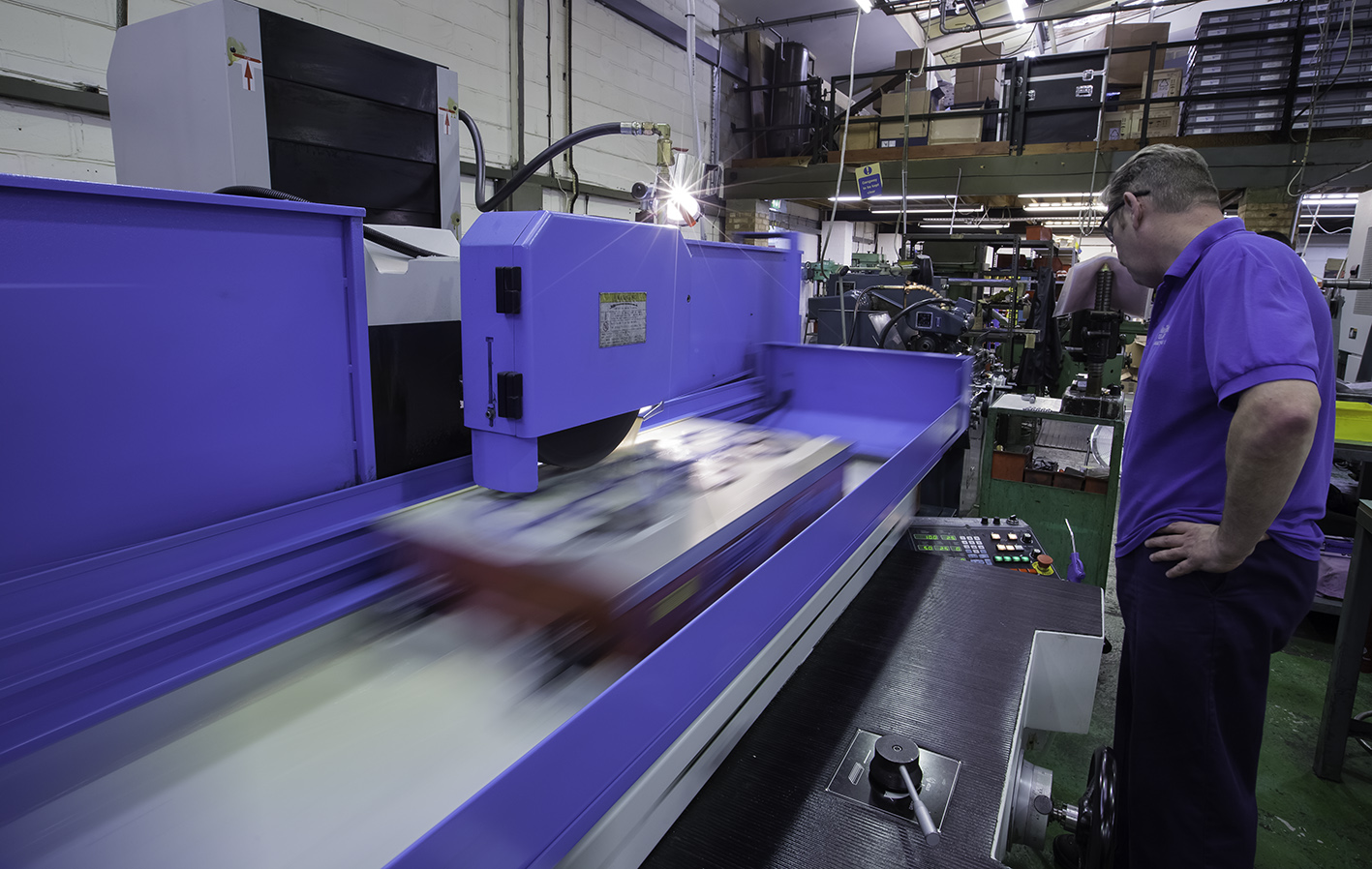 The consistency and accuracy of the Perfect PFG-D4080AH is its construction, with the column and base manufactured from high quality castings, slideways coated with Turcite B to ensure smooth movement and long-term accuracy, and the cartridge-type spindle is assembled using class P4 precision angular contact bearings, giving a runout accuracy of < 2 micron. In addition to the large 400 mm by 800 mm table the grinder also has a 550 mm distance between the wheel and table surface (optional 650 mm). The wheel itself is 405 mm by 50 mm by 127 mm in size.
"The Perfect PFG-D4080AH is part of an extensive range that encompasses saddle, column and cantilever designs, with the option of manual, NC and full CNC machines across the range. The machine chosen by Muffett Gears is a fantastic example of the value for money that the Perfect range provides. The alternatives were either more expensive, more complex machines, or to refurbish their existing machine, which would involve lost production time and cost a similar amount to the new machine that they bought," says Dick Aldrich, Sales Director, RK International Machine Tools.
For more information on the Perfect PFG-D4080AH Surface Grinder, click here to view details online or email sales@rk-int.com for more information. Have you seen the Perfect Surface Grinding Machines in the RK Videos section of our website?  View the videos here