Search results
RK International Machine Tools diverse portfolio will be on display at EMO via its long-term supplying partners Robbi, Delta, Perfect, MCM, Lagun and Jainnher, with a wide selection of grinding and machining centre technology on show.
Robbi (Hall 11, Stand A78) will highlight its universal grinding machine ranges with the Omicron 600 R and the Omicron 3606 CNC. The former is a conventional universal grinder and represents the, most compact of the five machine, R & E series which is available with centre distances between 600 mm and 1500 mm. Ideal for small batch production that requires high levels of accuracy this series of machines delivers roundness of 0,8 micron and cylindricity from 2 to 6 micron. Each machine in the series can be equipped with an internal grinding spindle with tilting support or, with rotating support positioned at the rear of the wheelhead. The machines also feature the latest version of Robbi's PLC control and touch screen display, Robbi conventional grinder are very flexible and are suitable for small series production that require high quality standard in roundness and cylindricity.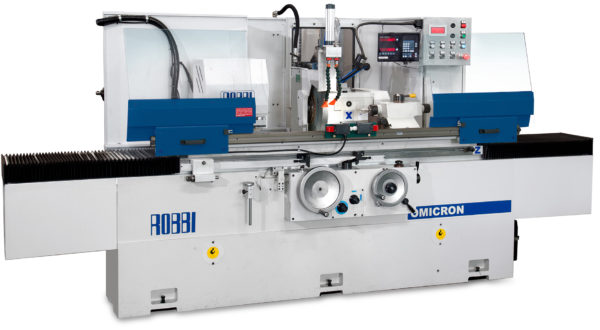 The Omicron 3606 now benefits from the availability of the Fanuc 0I – TF control as an alternative to the exiting Siemens control option. The Fanuc control enhances ease-of-use with a customised graphic interface and grinding cycles with simple and intuitive software further aiding the grinding process allowing non-specialist grinding operators to program complex parts with relative ease. For example, complex shapes that need interpolation, multi-tasking operations (internal and external on one single setup) and similar functions can be optimised by the control making medium to high volume production straightforward. Further automation can be added, such as automatic measurement devices, dressing options, gap eliminator, automatic balancer, measuring gauge and active probing.
Click here to view the range of machines from ROBBI.
Delta (Hall 11 - Stand B81) will be displaying three grinding machines, the Mini 7 Diastep, the Rotax 7 Compact Plus, and the LC400 with L11E. The Mini 7 Diastep is a tangential grinding machine with travelling column with a table size of 800 x 550 mm. The machine will be shown using Delta's Diastep PLC control that manages all the machine functions, displays the axes, and allows you to set an automatic grinding cycle through the guided menu. Two further levels of automation are available, which are CN Plus Touchscreen and full CNC based on the Siemens Sinumerik 840D SL control.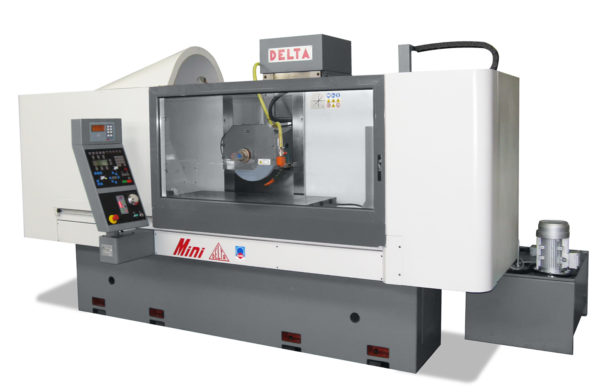 The Rotax 7 Compact Plus is a tangential rotary table grinding machines with travelling column and hydrostatic slideways, its 700 mm diameter rotary table is supported by a pair of pre-loaded high precision ball bearings with 25° contact angle driven by a brushless servomotor, which can be equipped with electro-permanent magnetic chuck. This is the smallest machine in the Rotax range, with the other two having table sizes of 900 mm and 1200 mm.
The LC400 is another rotary table grinding machine (400 mm diameter), which will be shown using the L11E automation system. This electronic micron-level feeding device is applied to the vertical axis of the LC range. The device's display shows the height of the vertical axis, which can be controlled by the electronic handwheel. Additional features include canned cycles to automate certain functions such as material to removed, increment (min. 0.001 mm), number of spark arrestors, number of table revs per increment. Once the cycle is complete the wheelhead is retracted and the machine comes to a complete stop ready for part unloading.
Learn more on the range of DELTA machines by clicking here.
Perfect (Hall 11 Stand A20) will present the European debut of the high precision Perfect X CNC Series of surface grinders in the form of the PFG-X36H with a table size of 300 by 600 mm. Control is provided by the SIEMENS 828D control that provides users with even greater programming capability for improved performance. These grinding programming functions include: surface, criss-cross, plunge, stair, side grinding, profile and contour including oblique grinding. Wheel dressing has been upgraded for the X series to include profile dressing, such as side, arc, oblique plus forming dressing options either on the table or wheelhead.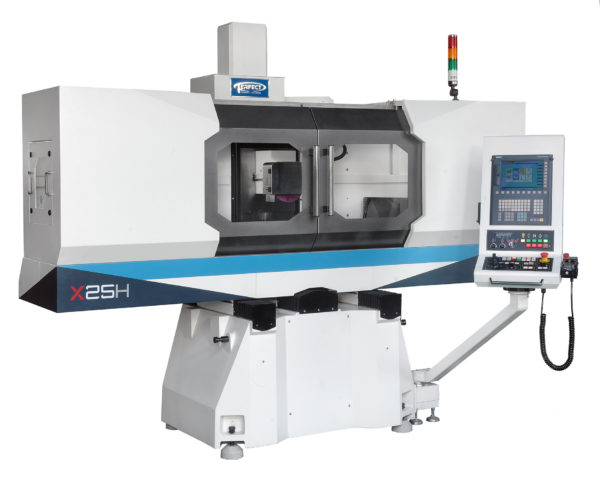 Perfect will also show the PFG-DL3060AH saddle-type surface grinder featuring automatic cross feed and hydraulic controlled longitudinal movement. With a grinding area of 300 by 600 mm and a maximum distance between the table and spindle centre of 500 mm (600 mm optional) the PFG-DL3060AH is a highly practical solution to small/medium batch surface grinding work. The machine at EMO will also feature the option of a control panel that is positioned higher and also rotates for improved operator/machine interaction.
See the range of PERFECT machines here 
MCM (Hall13 Stand C14) will be highlighting the ability to carry out milling, turning and grinding on a single machine on its multi-tasking Tank.G 1800 machining centre. The machine fully integrates all of these machining functions to optimise the manufacturing process. Central to the machine's success is the in-house designed and built tilting head, which is driven by two high-performance torque motors providing 830 Nm of torque and rotation up to 6000 revs/min. At EMO MCM will also be demonstrating Flight Recorder a recently developed system that works in conjunction with the machines jFMX software to enable predictive maintenance. The On-board PC collates data in real-time allowing the tracking and analysis of a wide range of functions in order to forecast maintenance requirements and increase spindle up-time.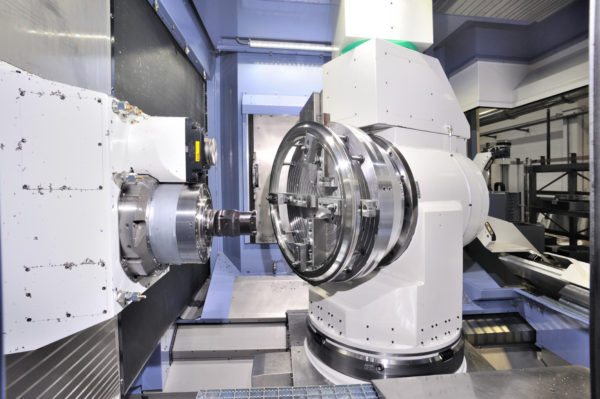 The full range of MCM machines can be found here.
Lagun (Hall 13 Stand A60) will have on its stand a BM 3 RT bed mill with integrated rotary C-axis table, which combines with the machine's universal milling head, which has encoder controlled positioning of 1 degree on both planes and a 4000 revs/min spindle, to provide multi-face machining capabilities. The machine on show has axis travels of 3000 by 1300 by 1500 (XYZ) with the rotary table measuring 1600 by 1200 mm with a load capacity of 6 tonnes. Control is provided by the popular Heidenhain TNC 640 with a 19 inch touchscreen. In addition to the machine, Lagun wil also highlight the latest developments of its milling heads. The LU S is a universal, stepless system with micron positioning every 0.001 degrees. The LU C universal head provides continuous rotation of the two planes to maintain ideal tool point tool positioning on the machined surface. Both heads feature high-accuracy direct measuring encoders and a high pressure locking system.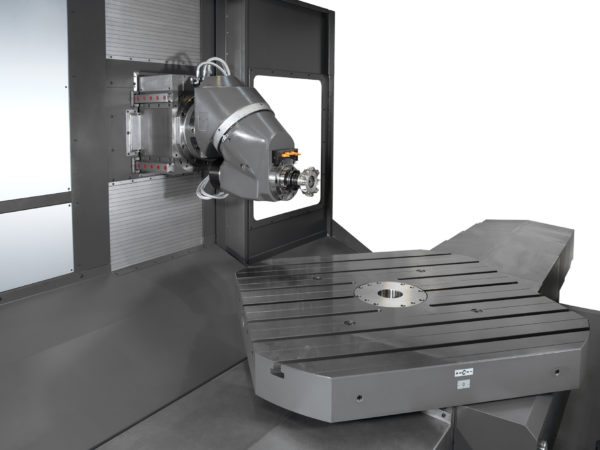 See the full machine line-up from LAGUN here
Jainnher (Hall 11, stand G35) the centreless grinding machine specialist will highlight its capabilities with the Jainnher JHC12S centreless grinding machine. This machine allows through-feed and plunge grinding of components measuring up to 40mm diameter while holding micron level accuracies. Further enhancements to the grinding performance come from the servo motor driven regulating wheel which provides perfect control of linear speeds for optimum grinding results. This kind of performance has made the JHC12S popular with a number of UK customers. Learn more on the EUROPA JAINNHER centreless grinding machines here.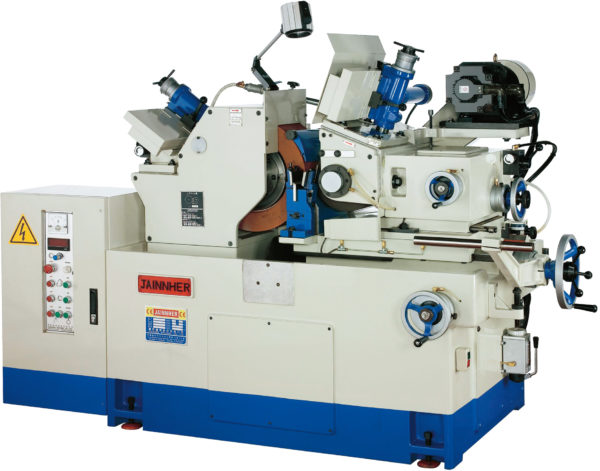 For more information, please email sales@rk-int.com