Search results
The decision to increase its stand size to allow a wider and more diverse range of grinding technology to be exhibited at MACH 2018 proved to be the right decision for RK International Machine Tools. The company recorded record levels of enquiries over the five-day exhibition and made some significant sales and identified a growing air of confidence among visitors from UK manufacturing companies that visited the stand.
"At the last MACH exhibition there was a great deal of uncertainty, MACH 2018 could not have been more different," says RK International Machine Tools' Director and General Manager Simon Rood. "We witnessed strong positive signals from our visitors and grinding seems to be a hot topic currently. Another area that saw increased interest was that of automation with the Jainnher centreless grinder that we demonstrated, with its automated load/unload system, proving particularly popular. That machine went straight from the show to be installed at a customer."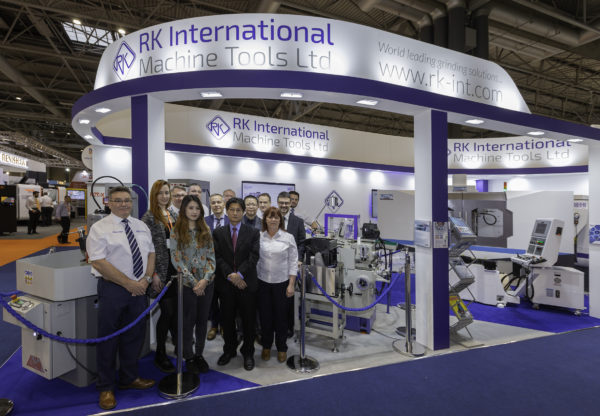 On the RK International Machine Tools stand was a cross-section of grinding technology from leading manufacturers, such as Jainnher, Perfect, Delta and Robbi. With all machines under power this gave visitors an insight into the potential that these grinding processes (centreless, surface, cylindrical) have to offer. With the addition of automation, as was the case with the Jainnher centreless grinder, that potential is further enhanced. Throughout the exhibition RK International was supported by its overseas partners, with representatives from Jainnher, Perfect, Robbi and Delta all in attendance to answer visitor's questions.
Confirming the positive mood was the arrival on the stand of Mark Ward and Paul Ballin from Chesterfield-based Precision Products, a leading manufacturer and supplier of piston rings and metallic seals, who confirmed an order for two Delta Rotax 12 rotary table, horizontal spindle grinding machines. "While this order wasn't a surprise, as we had been talking with Mark at Precision Products prior to the exhibition, it is always nice to receive an order on an exhibition stand as it justifies the time and effort that the team has put into delivering what was an excellent MACH for us.," says Dick Aldrich, Director, RK International Machine Tools.