Description
EUROPA 660SA Heavy Duty Mitre Bandsaw has been produced for structural steel sections and solids. 41mm blade and 4Kw motor with semi automatic operation
EUROPA 660SA Heavy Duty Mitre Bandsaw fitted with 41mm bandsaw blade is ideal for heavy duty steel beams and structural sections up to 660mm wide and solids up to 508mm round. Hydraulic operation of the vice and saw frame.
Machine Features
Sawing machine with hydraulic operation of the vice and saw frame (up and down)
Vertical movement on pivot with adjustable tapered bearings eliminating any backlash
High-capacity blade control by variable speed motor and special reducer with bronze gear and tempered and ground worm screw
Correctly dimensioned flywheels
Strong blade guides with tight stress-raiser bearings and adjustable Carbide blocks
Tension is obtained by electro-mechanical blade tensioner with a microswitch and gauge
Safety devices on the flywheel casing, control handle and on the blade. (CE / UKCA)
Cutting thickness 1,5 mm
Cutting range 60° left to 60° right
24V control circuit (CE)
Electric coolant pump for blade lubrication and cooling.
Machine Specification
Main Motor
4Kw (400v/50Hz/3ph)
Hydraulic Motor
1.5 Kw
Blade Speed
26 – 80 m/min
Blade Dimension
5890 x 41 x 1.3mm
Machine Dimensions
3000 x 1270 x 1730mm
Weight (NW/GW)
1590 / 1800 Kg
60/60 swing head bandsaw for easy mitre operation. 41mm blade for cutting heavy sections or solid bar.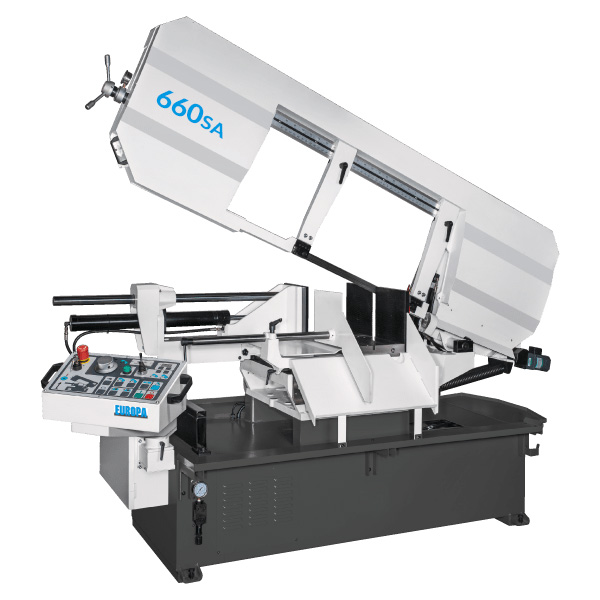 Other EUROPA Bandsaws: