Search results
As our warm Summer progresses and thoughts turn to holidays, leisure pursuits and possibly a trip down the M5 to Cornwall it is easy to forget the region's rich heritage in world trade and innovation . Ancient tin work ruins set against stunningly beautiful scenery might have one reflect that Cornish industry is a thing of the past. Not so!
From its purpose built facility in Bodmin on the edge of the Moor, Flann Microwave demonstrates that 21st Century technology and knowhow is not merely alive but prospering in the area.
Founded in 1956 the company relocated to Bodmin 40 years ago and is today a world leader in the design, and manufacture of antennas, precision microwave components, test, and measurement systems operating up to frequencies as high as 220GHz.
The diverse application of Flann products includes Military, Broadcasting, Aerospace, Telecommunications, Satellite communications, Academic/Scientific Institutions, Utilities and Manufacturing. From its UK and US facilities the company supports an equally impressive global customer base including; Ericsson, Siemens, Alenia Marconi, Alcatel, P-Com, Astrium, Nokia, the NPL and many more.
Today's technical and commercial considerations create an increasing demand for ever higher frequency equipment, one simple example being the switch from analogue to digital in TV broadcasting.
Ian Crane, CEO of Flann Microwave explains the associated engineering problems. "The issue is a combination of accuracy and scale. Put simply, wave guides are chambers of differing size and shape in both section and length, and for any size chamber, dimensional accuracy and geometry are critical performance factors. The higher the wavelength, the smaller the chamber required, and that is where the micro engineering begins. Producing a chamber for lower frequencies of say 10 mm rectangular section with no corner radii to a tolerance of 10 µm is perhaps one thing. However, consider the challenge in scaling down the product by a factor of 10 to produce a chamber in gold plated copper 1mm across, rectangular at one end and changing form to a circular cavity at the other. The size reduction translates to a tolerance reduction to 1 micron!"
Says Mr Crane, "Such challenges require not just high technology tools but the people with the skills to use them and develop the processes that optimise their use. Further, to utilise the best of these technologies and integrate them into the design process for current and future generations of Flann products".
Tasked with this remit, Engineer Lee Osborne and his manufacturing colleagues recently entered into a procurement project which culminated in the supply of a new manufacturing cell from Suppliers RK International of Erith Kent.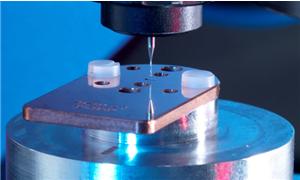 The equipment supplied comprised of 2 Fanuc F Series RoboDrill VMCs with Fanuc 31i A5 Controls. Having spindle speeds of 10,000 rpm the RoboDrill is designed for high speed high precision and features a Nano CNC system which uses ultra precision pulse coder for control with interpolation and feedback in nanometres. Feed rate and acceleration control are facilitated by Ai contour control capable of reading up to 30 blocks in advance.
Also included in the RK International solution was RengageTM technology in the form of 2 Renishaw OMP 400 high accuracy optical machine probes. This latest ultra compact product from Renishaw features the miniaturisation of the strain gauge technology pioneered and proven in the company's highly successful MP700 probe.
Extremely low pre-travel variation and high repeatability are some of the significant benefits offered over and above traditional probe design and, says Mr Osborne this ultimately influenced the choice. The probes, housed in the RoboDrills 21 station vertical tool turrets are used for work-piece setup and are regularly used with 0.5 mm styli diameter. In keeping with the micro milling setup the machines use single point diamond tools, end mills of 0.2mm and drills of 0.1mm diameter. Tools are set via Renishaw's TS27 wireless tool-setting system, included on each machine.
RK also supplied wash gun hoods for each machine and organised the appropriate training which was straightforward since the new RoboDrills join an existing installation and the Flann Engineers are already competent with Fanuc controls.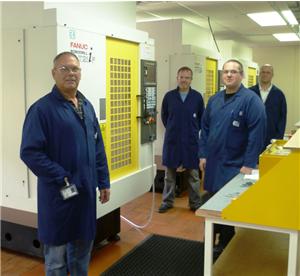 The offline programmed RoboDrill cell is engaged specifically in the production of minute mandrels, machined to take the intricate and often highly complex internal form of waveguide chambers. These may be helical, contoured or blends from rectangular to circular. Machined from solid the mandrels represent a very small percentage of the original stock material and are extremely delicate, requiring high spindle speeds and low feed rates. In addition to the 10,000 rpm spindle speed capacity a high speed 90,000 rpm attachment is also utilised and can be moved from machine to machine. The low feed rates mean a single mandrel may take several hours to produce. Considerable time is then spent on de-burring which at Flann is truly a fine art. Indeed so specialised is the design and manufacturing process that Flann undertakes its engineering almost exclusively in house and to support this the company is currently training 3 apprentices, Completed Mandrels are used to produce wave guides using an electroforming process. (In itself simple enough technology, similar to electro-plating). Flann however takes this process to an extraordinary level and is able to produce a complete component comprising wave guide, and flange that requires no further machining! Typically formed from copper the components are then coated in 24 carat gold, silver or tin nickel.
The entire procurement project took just 6 weeks from enquiry to production and serves to emphasize the value in partnering with the right supplier. Comments Mr Osborne; "The cell involved not only the machines, but all of the other associated equipment critical to the installation and subsequent process. To this end we have been very satisfied with the efforts and attention to detail of the RK International team".
Dick Aldrich, Sales Director of RK International emphasises how such a project illustrates RK's longstanding commitment to the manufacturing community, stating "Throughout our 60 years the name RK has been and continues to be recognised for understanding and fulfilling the customer's needs. Longstanding and strong relationships with globally recognised principal suppliers enable us to provide a comprehensive choice of brands reliable in operation and trustworthy in after sales support. From a single new or used machine through to a turn-key package we aim to balance the best available technology with budgetary and time considerations to provide solutions that add value and profitability".
Serving to underline the importance of a timely and efficient project completion Mr Crane further adds that "Following the difficulties experienced by us all over the last 2 years it was as though someone flicked a switch in September 2009, since Flann Microwave in 2010 looks set to enjoy its best year since 1996".
At a time when the UK increasingly looks toward an industrial and manufacturing driven recovery it is encouraging to see such innovation, collaboration and application of vision, tools and skills. Add some pride and passion to the formula and one realises what is the real cream in Cornwall.