Search results
A recent £6.7 million investment by Farnborough College of Technology in its Aerospace, Automotive Academy has created one of the very few training establishments in the UK able to deliver further education in engineering up to BSc Honours in aeronautics, manufacturing, motor vehicles, electrical, electronic and aircraft maintenance.
Opened in January 2010 and linked to the University of Surrey, a key area of the 30,000 ft² facility is its dedicated training area that immediately impresses as a light, airy, well-organised and laid out machine shop. Here, apprentices from industry and full-time students taking further and higher education courses can learn their trade and perfect their skills.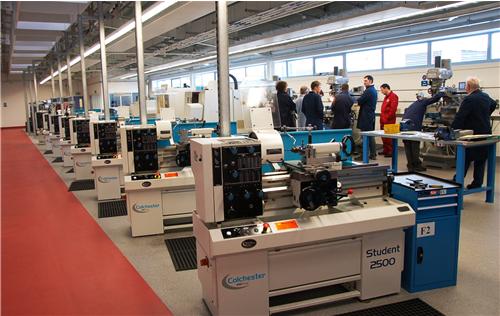 The machine shop is located on the first floor above an equally impressive motor mechanics training area fitted out with all the latest garage and maintenance equipment that is set alongside a separate sheetmetal area. As a result it is immediately obvious this facility in Farnborough is totally dedicated to ensure students are given the maximum opportunity to experience the "real world" of skill development through access to the most appropriate technology.
From the input to the training school project by Head of Engineering Stuart Murray the real world of manufacturing, in his view, is so important. When he set up the tendering and bidding process, as an ex-apprentice toolmaker this experience ensured the objectives of aligning the facility to the needs of industry were met. Before placing any contract in July 2009 he was very keen to achieve a long term relationship between the equipment supplier for installation, service, support and training as well as its ability to provide a turnkey package. Adding to the challenge to the supplier, the facility had to be fully commissioned within just five months involving some 50 pieces of equipment and accessories as well as the refurbishment of existing machines.
It was RK International of Erith in Kent that ticked all the boxes with the college and won the total package worth in excess of £250,000. Also within the contract were certain pieces of equipment for the sheet metal workshop. Said Mr Murray: "RK's involvement with OEM, subcontract machining companies and the success of past educational projects meant that they understood the bridge we were planning to build; to provide students with the most appropriate training to meet the needs of the industries they will be or are already involved with."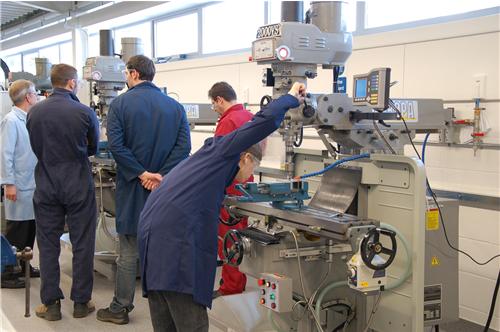 He then added: "RK also represents Colchester Lathe and T.S. Harrison for their range of centre lathes and electronic flat bed lathes which we regard as an industry recognised standard for turning and this obviously helped in our decision for RK to secure the business."
Altogether, in the 35 m by 10 m machine shop, RK International supplied and installed seven Colchester Student 2500 and one Triumph VS 2500 1250 centre lathes, a Harrison Alpha 1350 XS electronic flat bed lathe, a Fanuc Robodrill T21iC vertical machining centre (VMC) with a full range of control and software options plus three of its own Europa Milltech 2000 universal knee and column milling machines with digital readouts.
As part of the contract RK's installation engineer had to resite two existing VMCs in the new facility as well as two grinding machines, a Jones & Shipman 540 surface grinder and 1310 cylindrical grinder that were reconditioned by RK. In addition, a couple of power saws and vertical bandsaws, off-hand grinders, tooling, a host of accessories and vices were also sourced for both the machine shop and the sheet metal workshop. Here, too, RK sourced and installed folders, bending rolls, saws and drill spindles that are sited amongst the multitude of nesting box style welding bays.
The College is very popular drawing in some 15,000 students of which 2,000 are following full time studies plus a number of 14 to 16 year old pupils from local schools. Students are largely drawn from a catchment area of Surrey and Hampshire plus a significant presence attracted from overseas. The School of Engineering focus is on practicality, which is very popular with the local aircraft industry and aircraft maintenance companies which means students are set a wide variety of tasks to complete.
Apart from basic machining, programming and general engineering skills, special challenging projects are also the order of the day. For instance, a recent degree student exercise was to develop out and machine the various components to create a model of a Stealth fighter. Once built it was used in a wind tunnel as part of a feasibility study involving comparison trials over actual wing performance against design specification.
For RK International the college set a target of 4 January when the first students would be embarking on using the equipment for machining exercises as part of their studies. Due to the building developers clearing site, delivery dates of the various pieces of equipment and sourcing of accessories, this meant RK's installation team had a window of one week to deliver, install and commission before Christmas. To which Mr Murray confirms: "They were all completed within five days."
However, the project was not just a ship, drop and wire in. There were numerous meetings on site with the building contractors and the college and as the machine shop was sited on the first floor, Mr Murray worked very closely with RK to ensure floor loadings and electrics complied. They also had to ensure that building was fully protected when machines were off-loaded, lifted to the first floor and passed through an access door at one end and then finally positioned.
In addition, RK had to provide risk assessment, advice on health and safety issues and provide training for programming and operation of the machines. Added Mr Murray: "Positioning of each machine was very important not only for visual layout and operation but also to enable discussions and presentations to be carried out that would not cause disruption to other students, compromise safety or restrict others from working."
Summing up events Mr Murray said: "After the contract was placed it became a very workable partnership involving very careful planning, co-ordination and a strict time table. Most important was that RK International understood our needs and objectives which has resulted in a very functional facility that is important for our students' success and that we can be very proud to show to any visitors. It clearly reflects the level of training we can offer in what has become a very sophisticated and demanding sector of industry and one that has drawn a lot of public awareness of late."