Search results
The business of cylindrical grinding has always been a specialised one and in today's market where the application specific solution is increasingly the name of the game, "Expertise is king," comments Dick Aldrich, Sales Director with RK International Machine Tools of Erith. He continues, "When coupled with innovative yet proven technologies, it is a formula for success and ever higher standards for production consistency and productivity." He is talking of RK's long established and successful relationship with Robbi Grinders the Italian company who have specialised in grinding machines since 1936.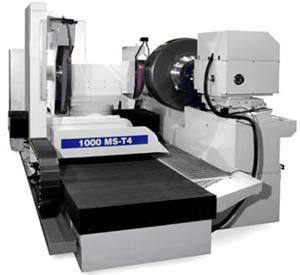 Originally a crankshaft reconditioning company, Robbi, now in its 4th generation of family ownership, is a world renowned specialist in the design and manufacture of cylindrical and internal grinding machines at its facility In Verona, Italy. The relationship with RK began in the late 1990's. Says Mr Aldrich "As the trend towards higher specialisation in the UK market developed it became clear we needed to respond. This has been a hallmark of our company for nearly 60 years."
Application engineering is nothing new; however, it is in the provision of bespoke grinding solutions where the Robbi/RK partnership combines knowledge with state of the art technology to meet today's more specialised demands head on. This ability has facilitated significant growth for RK's grinding machine business within increasingly diverse market sectors including, defence, aerospace, food industry, machine tools, renewable energies and naturally general engineering.
Mr Aldrich expands on some of the key considerations in the development of bespoke grinding solutions;
"Firstly it is essential to understand the ultimate purpose of the components. Component failure in some applications whilst undesirable may carry a low risk, in others, failure may however carry an unacceptably high risk. Obvious examples include components for use in the aerospace and defence industries. The drive towards continually improved service life, performance, reliability and safety coupled with viable productivity pushes the manufacturing envelope further; Ever tighter tolerances in more exotic materials that can be difficult to machine are very much a part of such considerations. Recently RK and Robbi provided a bespoke grinding solution for helicopter gearbox motor shafts. Components are rarely more critical than this! Other application examples have included for stellite bearings, ceramics and carbide wear parts.
Additional considerations include diversity in size, geometry and form, illustrated by further recent RK/Robbi specialised grinding solutions. One of which provided a Robbi internal grinder to process aerospace bearings up to 300 mm diameter by 30mm deep and concentric to within 0.0003mm TIR. Such geometry is only achievable through exceptional production technology expertise and matched set machine build.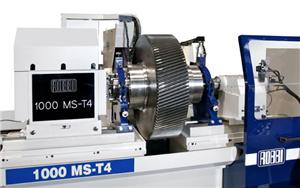 At the other end of the scale a recent food industry project involved a Robbi cylindrical grinder for grinding cast iron rolls up to 400mm diameter by 3000mm long where size was critical to the order of 0.0002mm over the entire component length. This was facilitated through specialised process control and closed loop feedback in a purpose built temperature controlled environment. Work within the gas, water and nuclear industries has also seen RK provide special solutions for the grinding of large scale components up to 1200 mm diameter by 5000 mm long.
Increasingly, modern electronics and process control play a critical role in machine development and capability. The variables which are considerable and intricate include material, stock levels, in cycle wheel wear, feed variation, and dressing frequencies. Further the influence of coolant, filtration and thermal effects are added complexities which may necessitate environmental control. In the design of its machines Robbi incorporates the very latest technology including Siemens controls which support in process gauging, automatic wheel balancing and programmable dressing. The Siemens controls have proved very successful in these applications and a Robbi intuitive user interface has been developed as a collaborative venture to make operation even easier.
By necessity then, engineers are demanding ever better performance from their machines across a raft of considerations, which go beyond the machine simply doing the job. In addition to the obvious requirements of quality and production consistency in relation to size, geometry and surface finish, operational life expectancy carries greater emphasis than ever before. Component life span and development may require that a machine and associated processes remain viably operational for many years without the need for significant upgrading or even unplanned replacement. Fitness for purpose, machine reliability and continuity of support are fundamental to this and RK's ongoing commitment to customers' needs. Moreover, a well considered installation at time of procurement can provide significant benefits in later life as existing components are developed and new ones required. On that basis we endeavour to leave no stone unturned in the evaluation and planning process. This approach coupled with Robbi's worldwide applications expertise provides the vital ingredients in meeting customer needs."
Key to the successful Robbi formula is the specialist application engineering combined with the company's range of Omicron modular-based cylindrical and sliding-gap machines. The range of possibilities with this modular design is extensive and utilises an equally impressive array of technology options. Model designations R and E accommodate up 2000mm between centres, model P 1000mm to 3000mm and Model M from 3000mm to an impressive 6000mm.
Conventional machine versions R and E are still in great demand where high standards of precision, flexibility, and fast set up times are required. Available in 4 lengths between centres (630, 1030, 1500, and 2030mm); these machines support a wheel diameter of 450mm and component weight up to 300 Kg.
The semi-automatic Omicron T5 which is available in each of the R, E, P and M designations is well suited to small batch work and even one offs. Complete with linear encoder on the grinding wheel-head axis, it offers automatic dressing compensation which means work piece presetting is done only once.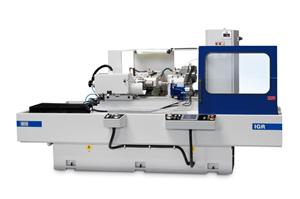 Teach in versions 32, 36 and 60 are available in model designations R, E and P and equipped with the very latest Siemens 840Di sl control they were developed specifically for medium to high production runs. The control supports gauging to optimise geometry and work parameters in process.
Full CNC versions 32, 36, 60 and 80 encompass each of the model variants up to a massive 995mm swing over table and 6000mm between centres. Also utilising the powerful Siemens control, an additional axis can be added to allow profile interpolation on the grinding wheel, which facilitates high precision crowning.
Robbi's internal IGR-250 grinding machine can be programmed to produce up to eight diameters in the same part up to a maximum diameter of 355 mm. Robbi also produces a range of complementary bore finishing vertical and horizontal honing machines with a capacity up to 460mm diameter by 2,500 mm hole depth.