Search results
EUROPA...
For over 30 years, the range of branded EUROPA machines have been supplied and supported in to the UK and Eire markets by RK International Machine Tools.
Since being established in 1951, RK International Machine Tools remains a family run company and continues to provide, quality New and Used machine tools and support services.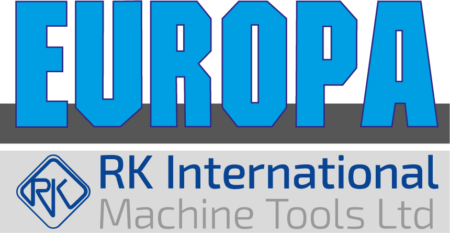 Today, the EUROPA range includes, Milling Machines, Lathes with exceptional turning capacities, Sawing Machines and Grinding Machines.
EUROPA Milling Machines range from one of the most commonly used turret mills found in Education and Tertiary environments, the EUROPA Milltech 1000VS Turret Mill. Other Turret Mill models include the workshop favourite, the R8 spindle EUROPA Milltech 2000VS Turret Mill. For those applications that require a 40 Taper, the EUROPA Milltech 5000VS Turret Mill with its square ways and powerfeed on all axes is a favourite in heavier workshops. Heavier machines are available in the EUROPA milling range and include the EUROPA BVS Bed Mill range, EUROPA Centurion RAM Type range with Bi-rotative heads and 50 tapers. Check out more information here >>>
The EUROPA name has featued alongside the range of JAINNHER centreless grinding machines since the first JAINNHER arrived in the UK. With thru-feed and plunge grinding applications available, workpieces of upto 150mm diameter can be centreless ground on the EUROPA JAINNHER machines. Automation is a popular option on these machines and does not have to be an expensive bolt-on. From a simple hopper to complex robot loading systems, please speak to RK for more information or click to learn more.
EUROPA Lathes: For large capacity turning, these machines handle the biggest of components! The entry level EUROPA MA-35 has a 1300mm plus swing and capacities in excess of 2000mm diameter are available on the 4 Shear way EUROPA MH-80. .
EUROPA Sawing machines. A popular machine in workshops where space is limited and structural steel is sawn and various angles: The EUROPA SB300VS Swivel Base Mitring Horizontal bandsaw can be found in many UK workshops.
For more information on the current EUROPA range of machines, click here to see the line up of New and Used EUROPA machines >>> https://www.rk-int.com/manufacturer/europa/