Search results
Dartford-based RK International Machine Tools has announced an agency agreement with the Italian manufacturer of precision grinding machines, Delta.  The addition of the rotary or fixed table grinding machines from Delta will further enhance RK International's portfolio of precision machine tools.
The timing of the announcement aligns itself with the addition to the range of machines of the Delta Mini Line Series. This three-machine series of travelling column surface grinders has working capacities of between 100 x 550 mm to 1600 x 650 mm, with each machine featuring a highly stable, meehanite cast iron, base that ensures consistent and precise performance.  Other machine features include hydrostatic lubrication of all machine axis slideways, which eliminates sliding friction and the possibility of 'stick-slip' occurring.  The machine spindle is driven by a servo-ventilated motor equipped with no-wear hydrodynamic bearings, that also provide extremely quiet operation. Accurate positioning of the transverse and vertical axes is controlled by a pair of pre-loaded ballscrews to ISO 3 standard.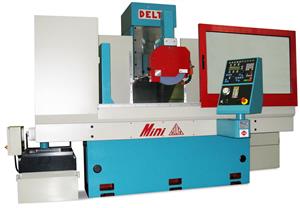 As with other machines in the Delta range the Mini series is available with three levels of automation/control, these being: DIASTEP, which provides control for all machine functions with manual and programmable control of the grinding cycle; NC plus takes control to the next stage with linear and interpolated wheel dressing on the table and the ability to use wheels with parametric profiles, multiplane cycles and side cycles with the Y axis; and finally there is a full CNC version that uses the Siemens Sinumerik 840 Di control and Siemens Simodrive digital drives.
Delta has been designing and manufacturing precision grinding machines from its base in Pavia, just south of Milan, since 1955. It current range includes vertical spindle rotary/fixed table machines, horizontal spindle rotary table machines, and travelling column machines, said to form the largest range of this type of grinding machine available on the market, with 19 standard models available.  Across the range grinding capacities go from 140 mm by 330 mm on the smaller rotary/fixed table machines through to a massive 3000 mm bed length on the Maxi range of travelling column grinding machines.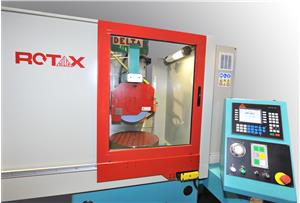 "Having a range as extensive as the Delta brand as part of our portfolio is a hugely positive step and will give our customers maximum choice when it comes to selecting their next grinding machine. The Delta machines complement the other grinding machines that we have available and further reinforces our commitment to being able to provide customers with the right machine at the right price to meet their specific requirements," says RK International Machine Tools Sales Director, Dick Aldrich.
To view the range of Delta grinding machines, please click here.