Search results
I am sure I can speak for many with us at these difficult times, when I say that we can all do with some positivity in our working lives, and it is with great pleasure and pride, that I look forward a few memories with you over the course of 2021, as RK celebrates its 70th year.
Part 1:  Our beginnings:
Back in 1951, my grandfather and former World War 2 Spitfire pilot Ray Schwarz, identified a void in the manufacturing sector for supplying tools and equipment. Based in South London, Ray approached his mother and my great grandmother, Kath, with a business proposal to start a company supplying this type of equipment. And with that RK began its business.
In the coming weeks and months, via the News section on our website and our social media channels, I hope you join me as we reminisce on earlier machine tool developments and changes in technology, along with stories from our industry, and including a visit to RK's facility by the Prime Minister.
If you or any of your colleagues have any memories or stories that you would like to share, of your dealings with RK, Ray Schwarz or my father, Mike Schwarz, please feel free to get in contact with me.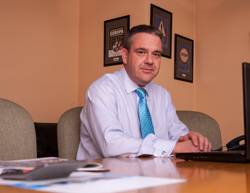 Mr John Schwarz, Managing Director.
RK International Machine Tools Limited.
Email: johnschwarz@rk-int.com
Part 2:  RK International and Crystal Palace: Click here
Part 3:  RK International and a Prime Minister: Click here
Part 4:  RK International - 25th year summer stock list: Click here