Description
NEW Perfect R DT Series of machines with the touch screen display and easy to use interface and complete with automatic NC controlled downfeed operation with spark out. Micro feed for the cross axis along with ballscrew controlled movements for 0.001mm fine feed. The new DT control, is also available on the range conventional surface grinders.
Perfect RDT Series of rotary Table Surface Grinders.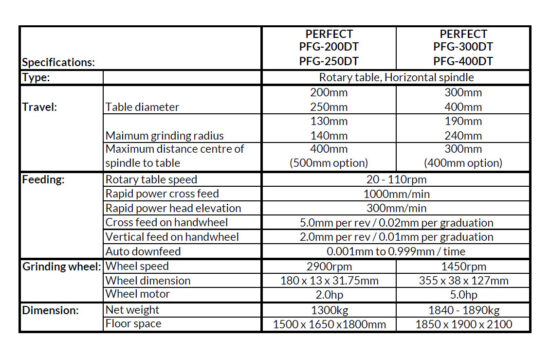 NEW PERFECT RDT SERIES of Rotary Table Surface Grinders. Standard Equipment includes:
NC Auto downfeed control system
LCD touch screen control panel with easy to use graphical interface
Micro feed for cross feed with 0.001mm fine feed
Magnetic chuck:
PFG-400DT: Electro magnetic chuck with demagnetiser
PFG-200/250/300DT: Permanent magnetic chuck
Ballscrew and microfeed for the cross feed
Tangential speed synchronisation. Rotary table speed will change when cross feeding (300/400DT only) Stepless variable hydraulic system
Quantitive lubrication system
Full machine enclosure
Grinding wheel & wheel flange (including flange extractor)
Wheel balancing arbor and base
Parallel wheel dresser (manually operated)
Leveling screws and plates, Toolbox, work lamp and machine manual
Optional Equipment:
Increased spindle centre to table distance
Spindle motor upgrade
Spindle motor inverters
Coolant systems with paper filtration
Coolant systems with magnetic separator
Coolant systems with magnetic separator & paper filtration
Coolant systems with dust suction
Grinding wheels and wheel flanges
Digital readout for vertical axis.