Description
ACM BS LL Bandsaws come in a good range of sizes and are designed to cut non ferrous metals and plastics. Ideally suited to cut aluminium risers and general work with castings. As these machines have crowned bandwheels that are not covered with vulcanized rubber compound, these machines are the perfect choice for cutting plastics that would normally get embedded in the rubber wheels and cause long term running problems.
The ACM BS-LL range are industrial bandsaws that can be adapted to cut anything. Due to their strength, we can stretch these machines to have large clearance under guides, add variable speed to cope with various metals or plastics, and change the type of guides fitted.
BS540 LL
BS640 LL
BS740 LL
BS840 LL
BS940 LL
Fly-wheels dia
530mm*
630mm*
730mm*
830mm*
930*mm
Blade Speed
1600 mt/min. Other speed options available depending on materials to be cut
Motor Power
HP 2
HP 3
HP 4
HP 5,5
HP 7,7
Max Cut Height
350mm
400mm
450mm
520mm
560mm
Max Cut width
510mm
610mm
710mm
810mm
910mm
Max blade length
4170mm
4710mm
5300mm
6000mm
6590mm
Min blade length
4250mm
4770mm
5400mm
6100mm
6690mm
Dust outlet
2 x Ø120
2 x Ø120
2 x Ø120
2 x Ø140
2 x Ø140
Table size
(W x D x H)
520 x 720mm
600 x 885mm
710 x 1000mm
800 x 1160mm
800 x 1250mm
Overall Dims.
870 x 620 x 1970mm
1050 x 620 x 2140mm
1180 x 720 x 2430mm
1410 x 820 x 2650mm
1550 x 920 x 2900mm
Packing Dims.
900 x 700 x 2200mm
1000 x 700 x 2350mm
2450 x 750 x 1250mm
2650 x 750 x 1350mm
2900 x 750 x 1500mm
Weight approx.
240kg
350kg
450kg
580kg
700kg
STANDARD EQUIPMENT
·            400V/3/50 self-braking motor
·            Supplementary stop on the front side of the table
·            Solid flywheels (1/3 crowned in the front) without rubber
·            Bronze scrapers on flywheels
·            Upper saw blade guide with bearing system
·            Lower saw blade guide with bearing system
·            Blade tension gauge
·            Gravity-fed blade lubrication system on felt pad
·            Increase Motor Power is Available
Perfect machine for cutting:
Aluminium Castings, plastics , composites , recycling materials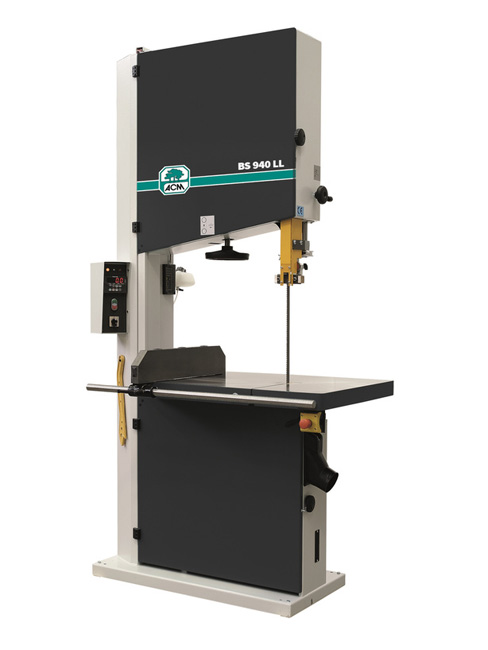 Need a bandsaw for wood ?