Search results
Increased demand for the precision ground products supplied to the aerospace and defence sectors at Harmon Precision Grinding, has led to the Wimborne-based business installing its second Europa Jainnher centreless grinder from RK International Machine Tools.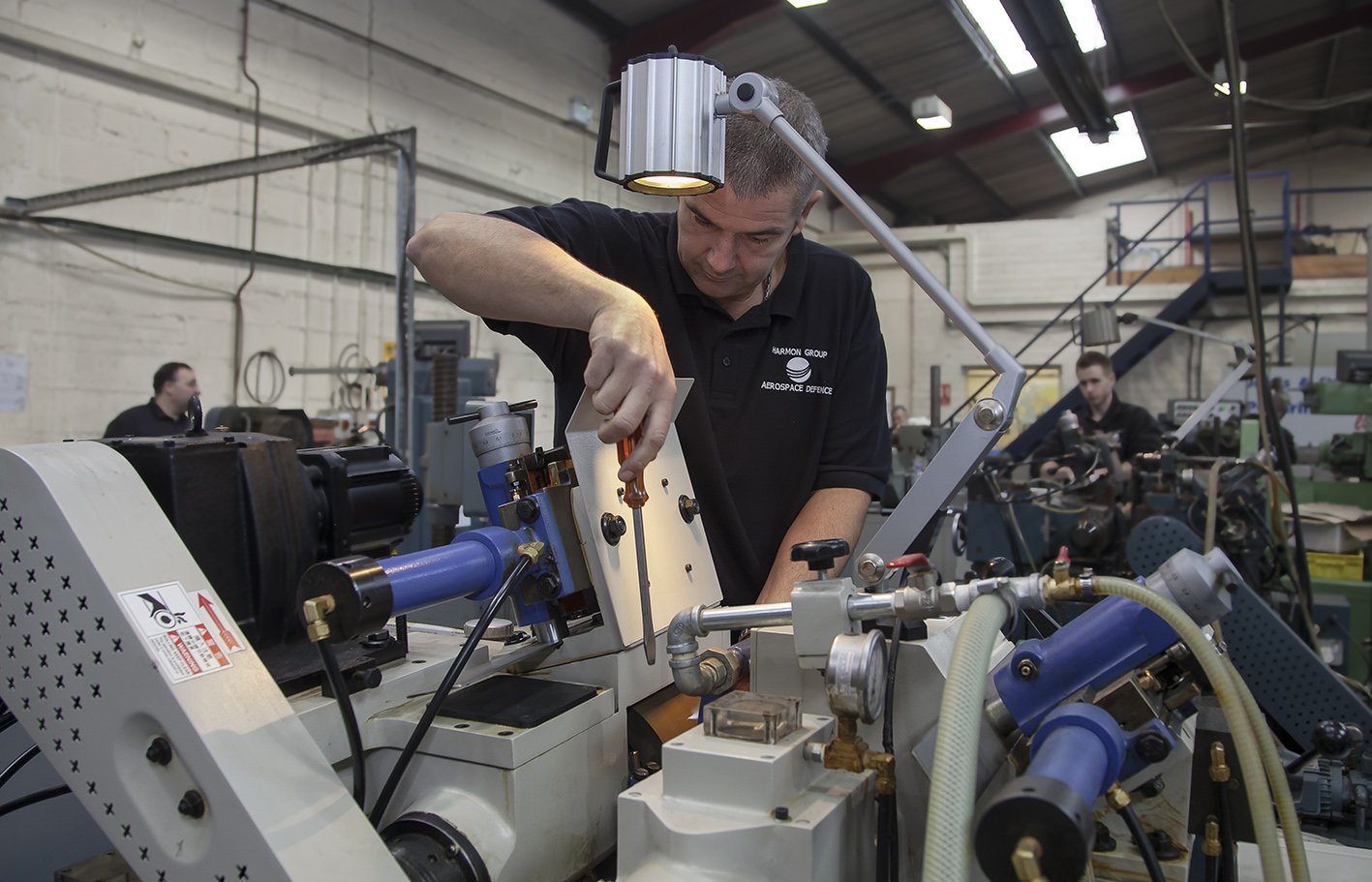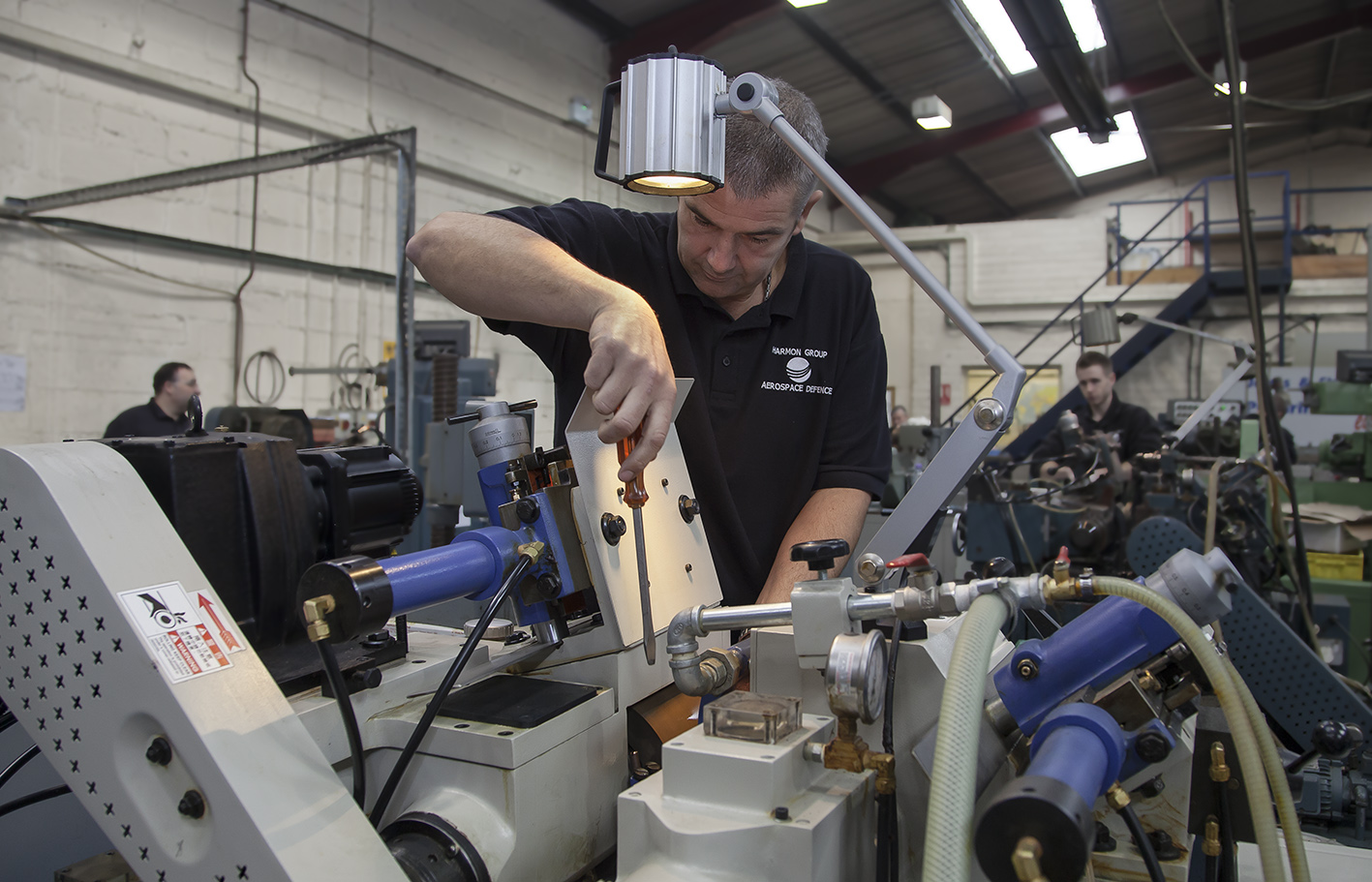 The Europa Jainnher JHC 12S was in production within a day of it arriving at Harmon Precision Grinding
Harmon Precision Grinding is part of the successful Harmon Group, which focuses its manufacturing capability on the aerospace and defence sector, with approvals from many major OEMs. The group operates through its four divisions, Manufacturing, Treatments, Fabrication and Grinding. Originally formed in 1964 to provide a grinding and tooling facility for the aerospace, defence and commercial sectors the Harmon Group has developed over the years and now covers some 42,000 ft2 over two sites in Wimborne, Dorset.
Investment has always been central to the growth of the Harmon Group, as the impressive plant list at its manufacturing division testifies, but it is the grinding division, headed by Trevor Sharp, that has recently enhanced its machine tool portfolio. "We had been in discussion with Dick Aldrich at RK International to buy a centreless grinder just as the recession really struck home in our sector, so it was put on hold while we worked through the downturn, thankfully without losing any of our staff. This then put us in a strong position when business began picking up again. In fact, such was the speed of the recovery that we found ourselves in need of the additional capacity for centreless grinding. Our existing machines included a Wickman and, from what we are told, the first Jainnher machine of its type installed in the UK. In reviewing this existing capacity we decided to get rid of the Wickman as it had not stood the test of time like the Jainnher. We also preferred the fact that we could get an almost identical machine to the existing Jainnher from RK International, so it made sense to have two machines of very similar design and operation," says Trevor Sharp.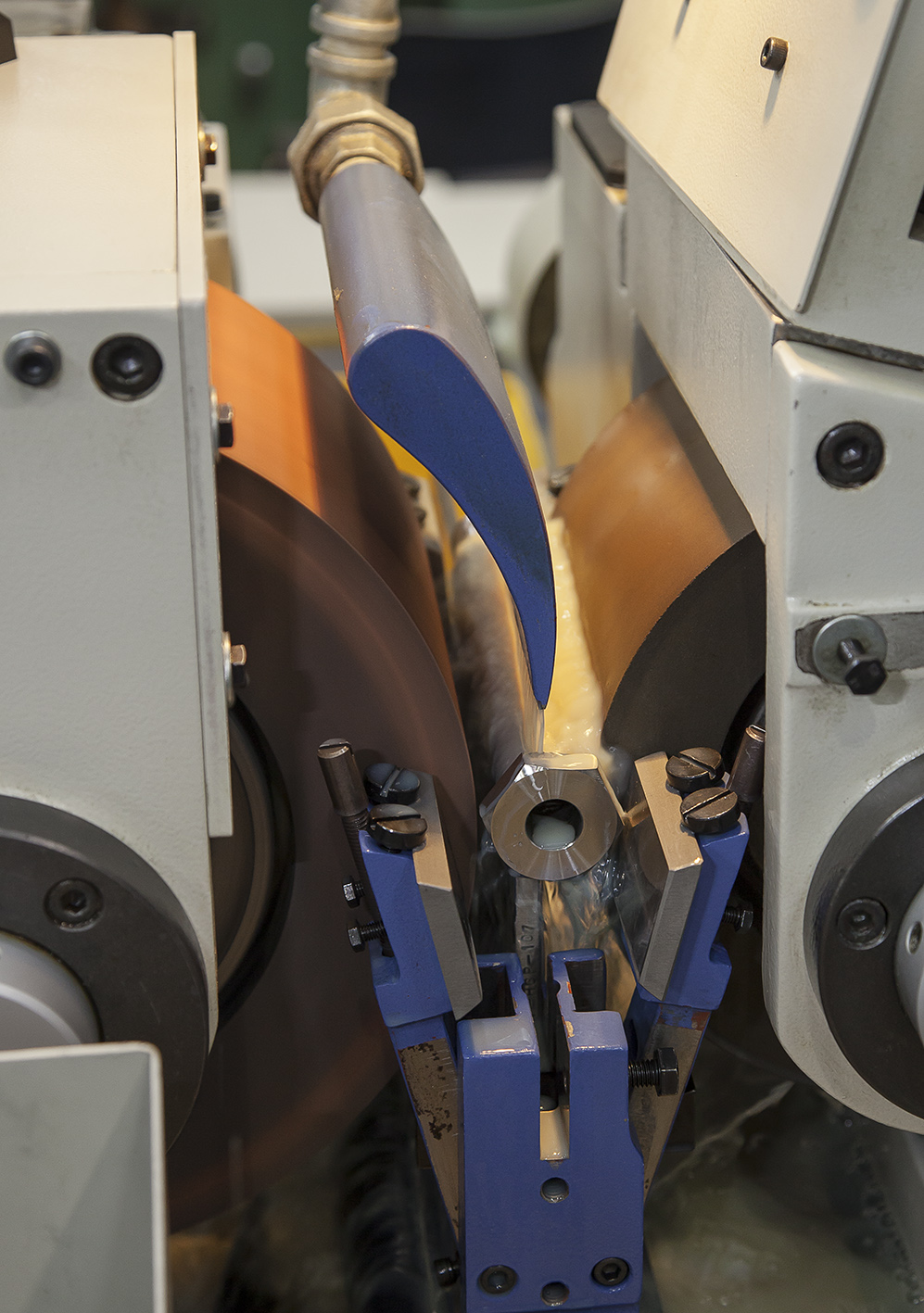 Setting the new Europa Jainnher JHC 12S machine is much easier and quicker than the original machine
It was at the end of 2012 that Harmon Precision Grinding reopened the conversations with RK International Machine Tools for the purchase of the Europa Jainnher machine. "While the machine itself is straightforward, we placed additional pressure on RK International with the specification that we wanted. For example, we needed specific workblades and some standard items on the machine were of no interest to us, but other options were. Therefore, the negotiations took a few twists and turns, but a deal was agreed and the machine was ordered on a ten week delivery and arrived ahead of schedule.  Within a day of it being lifted into place at our factory it was in production, so we were very pleased with the overall service provided."
Due to the nature of the process, which has changed little since the first machine was installed, there was no need for any additional training on the new Europa Jainnher machine. However, it is proving to be somewhat of a revelation in terms of accuracy and productivity. The mix of work that Harmon Precision Grinding processes on the machine ranges from pins that measure just 1 mm by 3 mm through larger shafts up to 50 mm diameter in various lengths. "We are getting repeatable accuracy down to 0.0001 inch tolerances and on certain jobs we are now able to straight plunge to similar tolerances, using the full width of the six inch wheel, which we couldn't do on our older machines. We are also extending the range of parts that we can grind on the new machine as it is easily capable of plunge grinding to these accuracies across the full width of the wheel, so parts that cannot be fed through the machine can still be ground efficiently."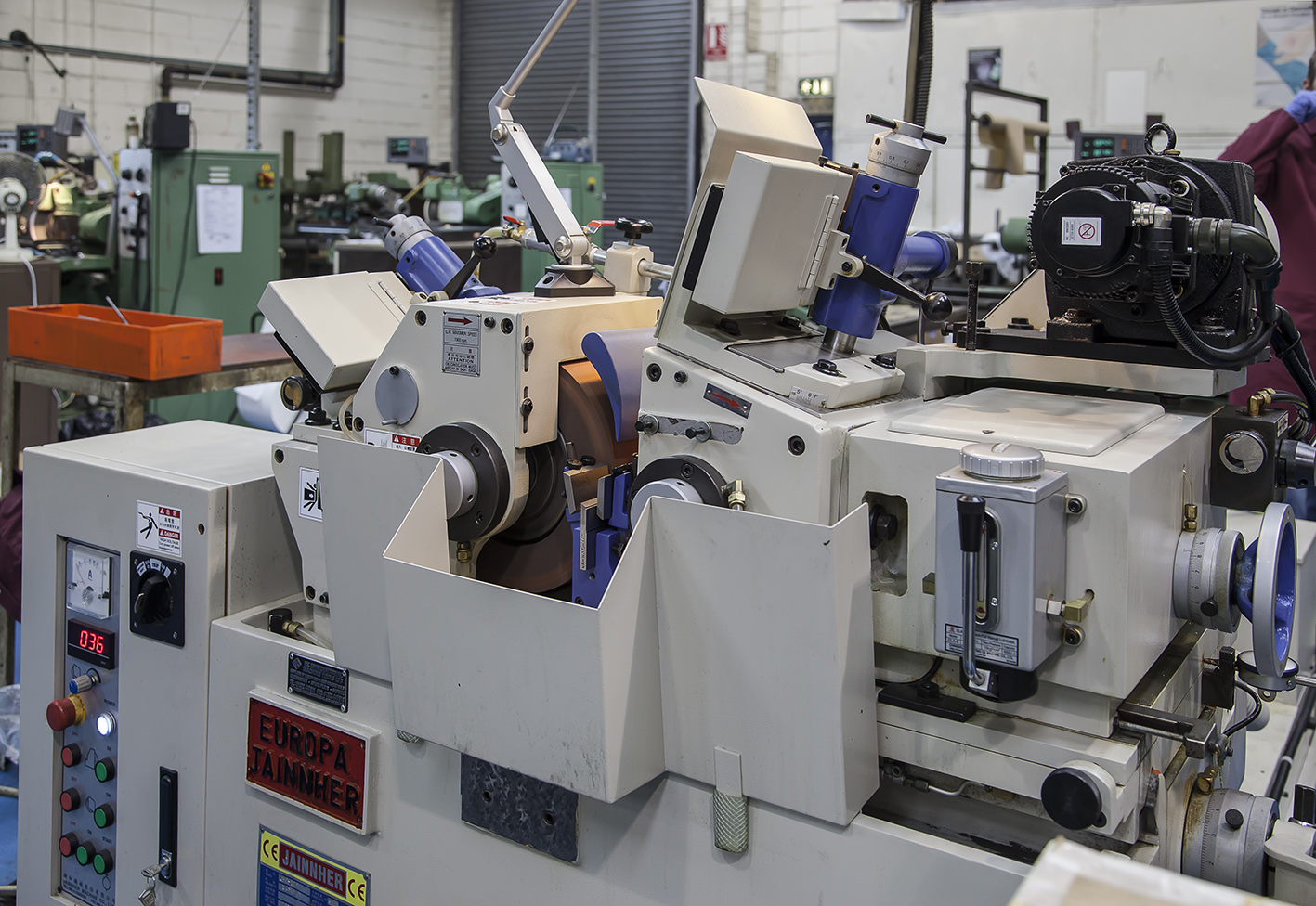 The wheel dressing device for the grinding and control wheels on the Europa Jainnher JHC 12S features stepless control
Another big advantage of the new machine is its ease of setting. A variable speed control wheel makes it much more user friendly when compared to the original machine and set-up times have been reduced as a result, something that is more evident on tight tolerance component, suggests Trevor Sharp, which is important due to the mix of work that Harmon undertakes, with batch sizes ranging from literally one-offs to tens of thousands across a range of materials that includes Inconel, molybdenum, rubber and nylon. The inherent accuracy of the new machine is also generating productivity gains as parts are ground consistently to tolerance, eliminating any need for fine adjustments during batch runs.
The construction of the Europa Jainnher JHC 12S Centreless Grinder is based around a stiff and stable platform created by the use of a FC-30 heat treated cast machine base, produced using a low frequency melting furnace and a resin core pattern. The stable performance and accuracy of the machine is also enhanced by the use of KJ-4 alloy bearings with a three point hydrodynamic oil support membrane. As mentioned earlier the regulating or control wheel is controlled by a Fugi Servo Variable Speed Motor, ensuring that it can be adjusted to achieve and maintain optimum linear speed. The housing of the spindle and motor are also linked together so that when the control wheel is tilted, the motor follows thereby overcoming the problem that arises through a gear box system. Finally, the wheel dressing device for the grinding and control wheels on the Europa Jainnher JHC 12S features stepless control through a regulating valve. Each wheel has its own unit, which is fitted with a safety release handle to retract the diamond in emergencies, these units can also provide a +/-5 degree swivel adjustment to shape the regulating wheel in order to increase contact with the component whilst through feed grinding.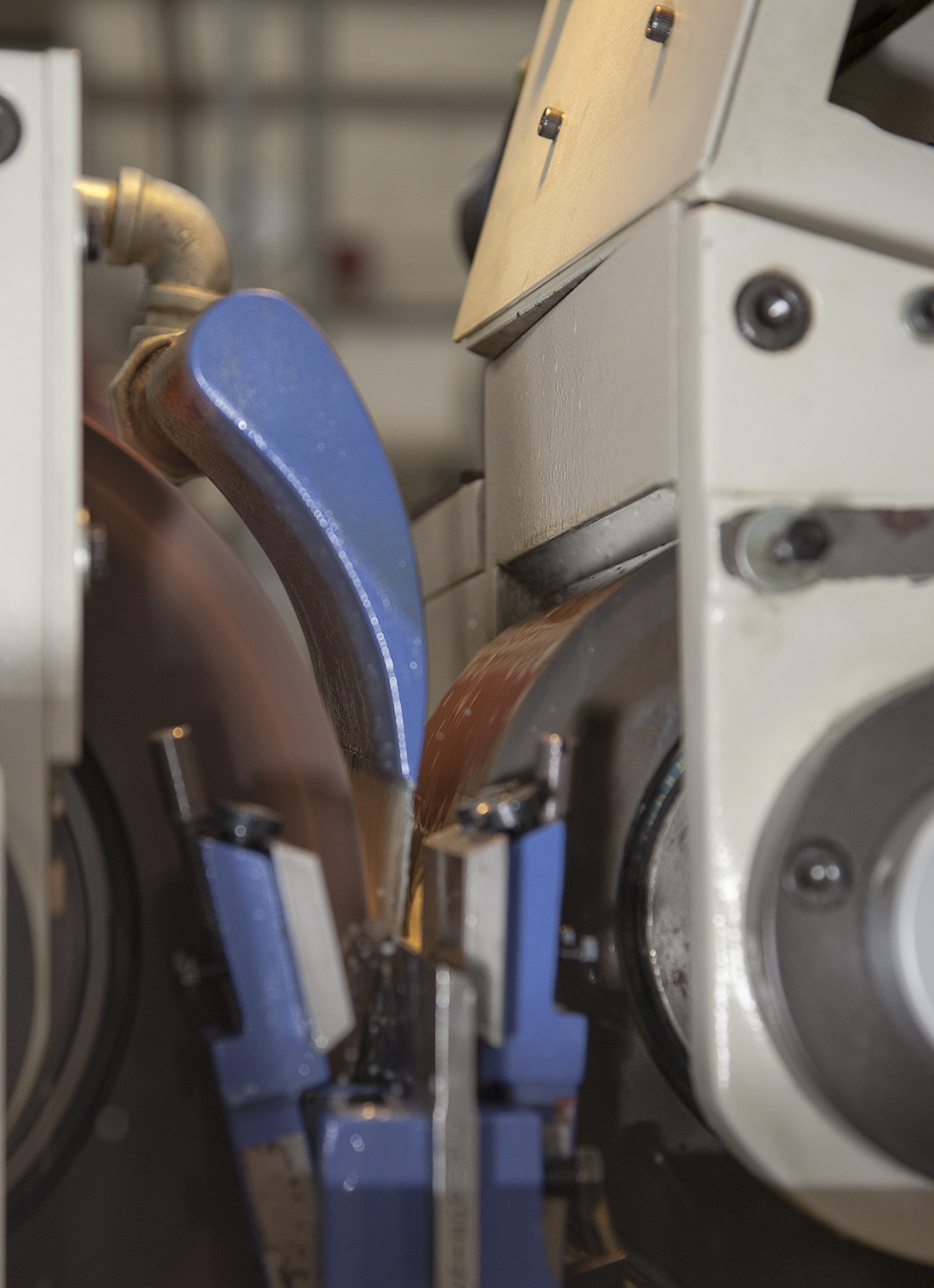 The new Europa Jainnher JHC 12S is being used to plunge grind across its full wheel width to accuracies of 0.0001 inch
"It is testament to the build quality of the Europa Jainnher JHC 12S machines that Harmon's original machine is still producing work to exacting tolerances. We are also pleased that we were able to satisfy their requirements with an almost like-for-like machine that will meet their need for increased centreless grinding capacity," says RK International Machine Tools Sales Director, Dick Aldrich.
To find out more on the range of EUROPA Jainnher Centreless Grinding Machines, please click here.