Search results
The Engineering Quest has over 30 years' experience and, is a leading global supplier of precision-machined components and sub-assemblies. They operate over two sites, with manufacturing facilities in both Milton Keynes, and Great Gransden, Bedfordshire. The business provides a range of services starting with design, through to pre-production and production.
With a diverse customer base, and particular emphasis on oil & gas, diesel systems, medical, aerospace, and electronics. To help improve efficiency when dealing with such diverse products, The Engineering Quest has extended its surface grinding capability with a Perfect PFG 4080 AH semi-automatic machine from RK International Machine Tools.
Key to The Engineering Quest's success is its versatility with over 56 CNC machines across its two sites covering most aspects of machining such as horizontal and vertical milling, multi-axis turn/milling, cylindrical grinding (internal and external), jig grinding and sink and wire EDM. "The diversity and cellular type approach that we have allows greater manufacturing flexibility and, while the oil & gas sector took a dip we did not feel the effects too greatly. Our customers turn to us to deliver product developments that will improve their efficiency and the oil sector continued to invest in this and high end products," says Steve Matheron, Managing Director.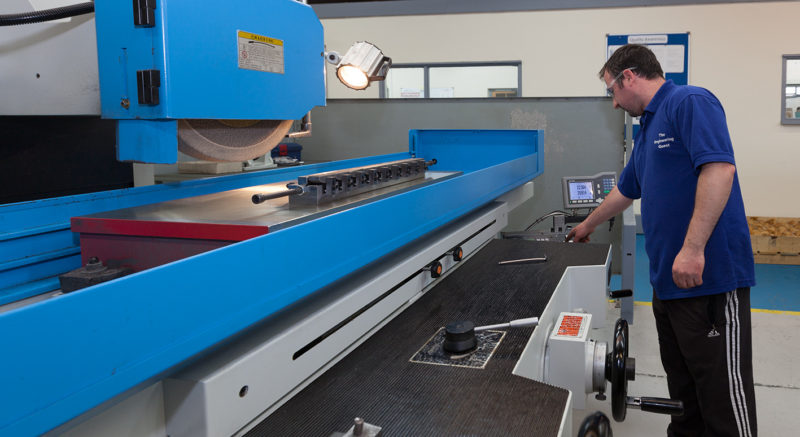 Precision is also a key factor in The Engineering Quest's production, which is evident in the sub-micron work that it undertakes, particularly in the medical sector, with regular production revolving around the manufacture of surgical instruments for eye surgery in particular. Typically the company is working to 0.3 micron geometric tolerances and 2 micron linear tolerances on this type of work. To achieve this consistently it relies upon a staff of 120, with over 90 directly involved in the engineering aspects of the business as well as an ongoing investment programme that sees the company spend on average £1 million every three years on new equipment.
"We have a strong belief that investment remains crucial to our success and we have committed high levels of resources over the past 20 years to maintain our advantage. Because of the nature of our diverse customer-base, though, any investment decision has to be subject to a detailed market review. We only buy machines that will have a positive impact on our service to customers and, of course, productivity. Which was the case with the Perfect surface grinder from RK International Machine Tools," says Steve Matheron.
The choice of a Perfect PFG4080AH from RK International Machine Tools followed a strategic review of the existing capacity at The Engineering Quest and the changing requirements of customers, particularly in the oil & gas sector, where it was finding volumes increasing. Surface grinding at the Bletchley facility was mainly manual and this limited production to single components per set-up. With the addition of the semi-automation that the Perfect machine brings, along with its 400 mm by 800 mm maximum grinding area, it is now possible to load the table with up to 20 components, in some cases increasing productivity by 400 per cent.
With The Engineering Quest's drive for quality the construction of the Perfect grinder uses a spindle design featuring class P4, high precision, angular contact bearings that give runout of less than 2 μm. In addition, the spindle is a cartridge-type that is sealed and lubricated for extended life. The use of Turcite-B on Slideways for precise movement and elimination of stick slips along with long-term accuracy.
"We took our time over the decision to upgrade our surface grinding capacity and our cell supervisor played a strategic role in the final selection, we need to know that they will be happy with the equipment that we can provide them with. The choice to go semi-automatic was driven by several factors, one to improve efficiency and two to provide a cost-effective solution that matches the way in which we utilise machine tools." The Engineering Quest works on a high capacity – low utilisation plan for its machines, this puts it in a fairly unique position of having capacity available to meet any possible outcome. With the surface grinder it was aware that this was not a machine that would be run constantly across its four day, 10 hour shift week, so they wanted a grinder that provided ease of use and at a cost that depreciation wouldn't be a concern if it was under-utilised. The Perfect PFG 4080 AH met both of these targets. At around a third of the cost of an equivalent CNC grinder and with the easy to use control and setting of the machine The Engineering Quest saw positive results very quickly.
"The addition of the Perfect grinder has got u into the world of semi-automatic surface grinding, its simplicity of use was crucial and we are seeing immediate benefits in terms of productivity and efficiency. Having worked with RK International Machine Tools in the past, we were confident that they would deliver on their promises, and they did."
To see more details on the PERFECT PFG 4080 AH, please click here;  To view the full range of PERFECT Surface Grinders including reciprocating ad rotary table models, click here.