Description
ALMCO Vibratory Bowl Finishing Machines Wet or dry processing capabilities Space-saving, low-profile design for easy load and unload Curved polyurethane-lined bowl for maximum finishing action Extended screening deck for more effective parts & media separation. Standard on the SBB, VM & LR Series. Optional on the OR Series. Variable speed motor for process flexibility Available […]
ALMCO Vibratory Bowl Finishing Machines
Wet or dry processing capabilities
Space-saving, low-profile design for easy load and unload
Curved polyurethane-lined bowl for maximum finishing action
Extended screening deck for more effective parts & media separation. Standard on the SBB, VM & LR Series. Optional on the OR Series.
Variable speed motor for process flexibility
Available Models: SBB Series, LR Series, OR Series, VM Series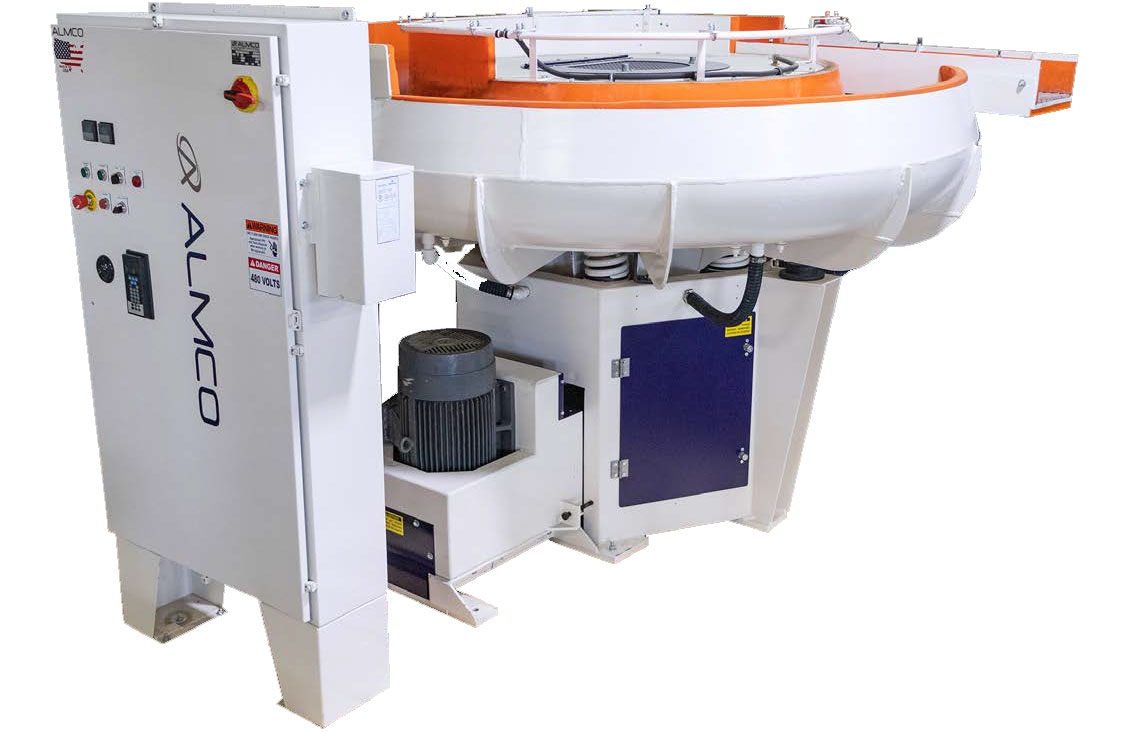 Automatic Lubrication System: Electric pump to periodically supply grease to critical bearings.
Flowmeter: Measures the amount of process liquid flow into the tub.
Carousel and Tub Dividers: Urethane lined plates, bolted to a rotating carousel to form separate compartments in order to prevent part-on-part contact.
Tachometer: Digital readout showing the tub vibrator speed for accurate process repeatability.
Air-Operated Discharge Door: Media discharge door opened/closed via air cylinder to allow for automatic operation or manually via selector switch on electrical enclosure.
Sound Hood: Steel cover lined with sound reducing foam that fits over the vibratory tub/bowl to reduce noise from the vibratory process. May be sliding or have spring-assisted lid for access to the machine.
Gate Clearing Feature for Internal Separator: The gate clearing feature reduces the chances of parts getting caught between the media gate and the screen frame. This option momentarily reverses the tub while raising the media gate to clear the area under the screen.
UL 508A Electrical Controls: UL® 508A is an Underwriters Laboratories directive for components and wiring practices as they pertain to industrial control panels.
Available Sizes: 3 ft3–40 ft3