Description
The KEF Double-Ended Grinder is a robust machine that is suitable for continuous production. The double-ended design allows wheels of different grits or materials to be mounted on each end, permitting two operations to be performed sequentially on the same component without having to change wheels or move to another machine.
KEF PSD10 Heavy Duty Double Ended Grinding Machines UK.
| | |
| --- | --- |
| Machine Specification | KEF PSD10 |
| On pedestal with table and water cup | YES |
| Grit, Grinding wheel | 24/46 |
| Machine height | 1229mm |
| Machine length | 900mm |
| Machine width | 410mm |
| Motor | 2,7 HP |
| Motor | 2,0 kW |
| Net weight | 140kg |
| Number of spindles | 1 |
| RPM | 1400rpm |
| Voltage | 3 x 400 – 50Hz |
| Wheel size, Grinding wheel (Ø mm) | 300 x 50 x 32mm |
Key Features
Powerful 2Kw Motor – factory wound - BRAKED
Been producing machines for over 100 years
Low noise, powerful grinding machine
Cast iron tool rest
Spark arrestors
Adjustable polycarbonate eye shields
No-volt overload push-button controls
E stop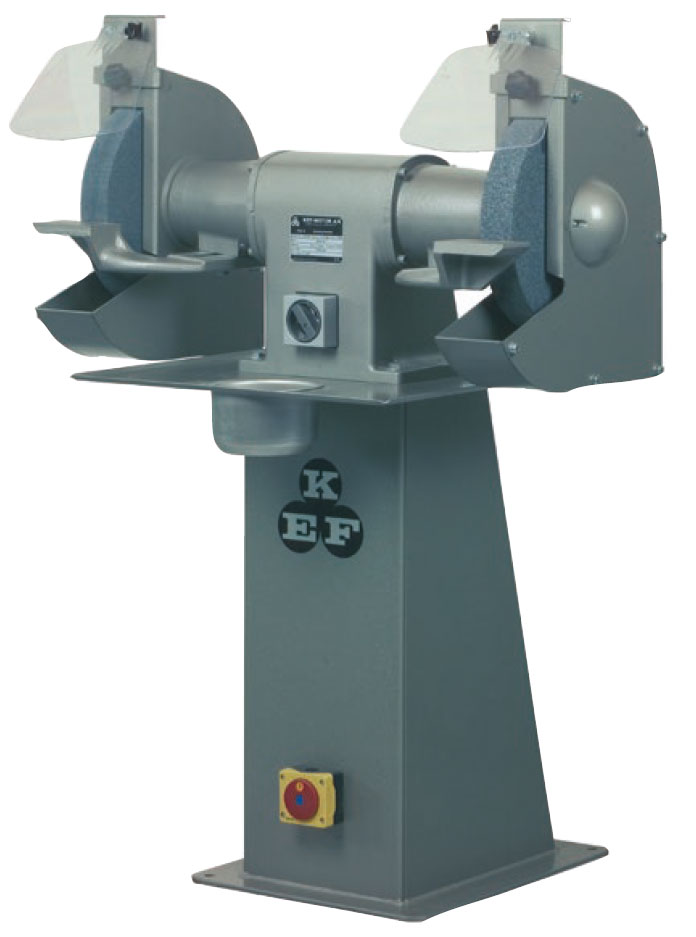 KEF PSD 10 GRINDING MACHINE– designed for heavy-duty work!
With its solid construction and powerful motor, the PSD 10 double-ended grinder from KEF is the perfect grinding machine for those who are looking for a powerful grinder that is capable of handling typical tasks and at the same time helps maintain a healthy working environment by emitting low levels of mechanical and electrical noise.
The spindle shafts are precisely placed in well-shielded dustproof ball bearings. KEF PSD 10 comes complete with two grinding wheels in closed guards with large adjustable eye shields and heavy cast iron tool rests. The standard version is prepared for connection to an exhaust system that is available for purchase as extra equipment.
POWERFUL MOTOR
The motor in the grinding machine is wound at our own factory in the town of Brovst, North Jutland, which is why we guarantee a quality motor that can operate continuously without needing downtime for cooling. The motor is encapsulated in a strong cast-iron structure that protects it against external impacts. If the grinding machine is used in accordance with the enclosed instructions, we vouch for a machine that will have a very long service life. Therefore, we offer a 5-year warranty on the motor.
BUILT FROM EXPERIENCE
KEF has been manufacturing grinding machines for more than 100 years and is famous for its reliability, power, and quality materials. All grinding machines supplied by KEF live up to all safety requirements in accordance with the CE marking and thus are equipped with separate emergency stop devices.
KEF PSD 10 GIVES YOU
• An efficient and powerful 2,7 HP motor that does not need downtime for cooling.
• A low-noise and powerful grinding machine without vibrations.
• Quality balanced grinding wheels in closed guards with adjustable spark arrestors and eye shields along with heavy cast iron tool rests.
• Excellent safety with a separate emergency stop in accordance with the CE marking requirements.